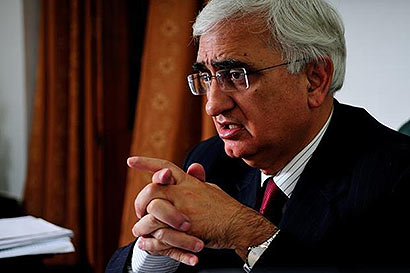 Foreign minister Salman Khurshid linked India's engagement with Sri Lanka with the humanitarian and development work India was doing for Tamils in the Northern Province, rebuffing reservations expressed by Dravidian outfits about the bilateral talks that Prime Minister Manmohan Singh is to have with Sri Lankan President Mahinda Rajapaksa on Tuesday.
Khurshid said India was constructing homes, schools and hospitals in Northern Province and he was sure that Tamils wanted the development work. "The fact is we engage for the welfare of Tamils … Ask them how they feel about the welfare work," he told reporters.
The foreign minister said India was pushing Lanka on the Lessons Learnt and Reconciliation Commission (LLRC) and the 13th amendment which he added had been kept intact because of India's advocacy.
Khurshid's upfront backing for Singh's talks with Rajapaksa by linking them to the interests of the Tamils across the straits marks a strong counter offensive to DMK and AIADMK. The Dravidian parties have objected to Singh holding talks with Rajapaksa. (India Times)