Samadhi Buddha Statues to Sri Lankan missions abroad
Posted by Editor on June 10, 2011 - 8:57 am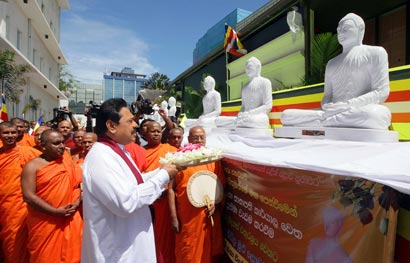 Onlanka News – By Janaka Alahapperuma
(Pix by: Sudath Silva)
President Mahinda Rajapaksa handed over 26 Samadhi Buddha Statues to mark 2600 Sambuddhathwa Jayanthi to the External Affairs Ministry to be entrusted to the Sri Lankan missions abroad. This program was jointly organized by the Ministry of External Affairs, the Presidential Secretariat and the Foreign Employment Bureau.
Samadhi Buddha Statues were escorted in a colourful motorcade to Colombo from Matara.  Last night the Buddha Statues were placed at the Independent Square and all night Pirith chanting was also conducted. President Rajapaksa paid obeisance to the Samadhi Buddha Statues when the motorcade reached the Temple Trees today on 09 June.
These statues were today handed over to External Affairs Minister, Prof. G.L. Peiris by President Mahinda Rajapaksa. In an effort to promote Buddhism overseas in the 2600th Sambuddathwa Jayanthi year, Sri Lanka Foreign Employment Bureau has made arrangements to offer Samadhi Buddha Statues to 26 countries.
Maha Sangha led by Venerable Ellawala Medhananda Thero conducted the religious observances. Chief Sangha Nayaka for United Kingdom and the Chief Incumbent of the Scotland Buddhist Vihara, Glasgow, Venerable Kamburawala Siri Revatha Thero chanted Pirith at the event
Pictures show the statues being offered by President Mahinda Rajapaksa at a ceremony held at Temple Trees. Maha Sangha, a large gathering including the Minister of Foreign Employment Promotion and Welfare, Dilan Perera, Secretary to the Ministry of Foreign Employment promotion and welfare Nissanka Wijerathne and the Chairman of the Foreign Employment Bureau, Kingsly Ranawaka participated in the occasion.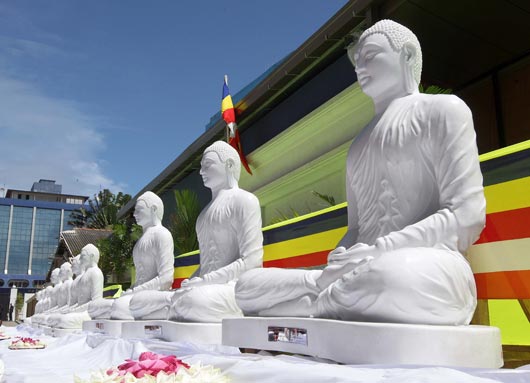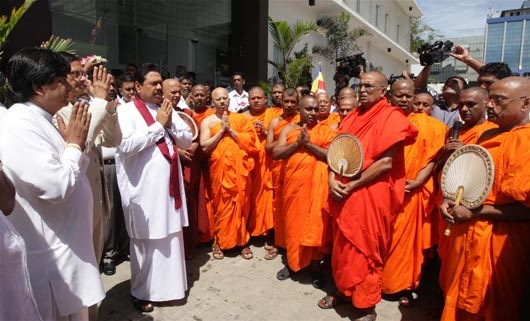 Latest Headlines in Sri Lanka