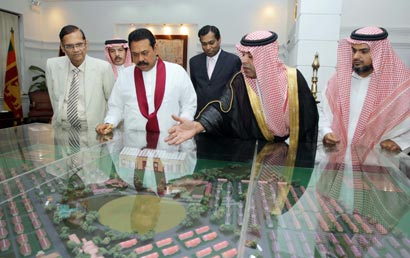 Onlanka News – By Janaka Alahapperuma
(Pix by: Sudath Silva)
Abdul Azeez Al-Jamaz, Saudi Envoy for Sri Lanka and Maldives handed over the symbolic key to President Mahinda Rajapaksa for the 500 tsunami houses which the Kingdom of Saudi Arabia built in the eastern province in Sri Lanka. The Saudi government handed over the ownership of those houses through its Ambassador in Colombo at Temple Trees today on 09 June. Governments of Saudi and Sri Lanka signed a MOU in 2006 to build 1000 houses for 2004 tsunami victims in the east. These 500 units are a part of the houses pledged by Saudi government for tsunami hit people.
Foreign Affair Minister Prof G.L Peiris, Deputy Minister Neomal Perera,Secretary to the President Lalith Weeratunga, Secretary to the Foreign Ministry, K.Amunugama, Government Agent of.Ampara, Sunil Kannangara, Mr.Amer M Aimlek and Mr.Al-Salamah Khaled of Saudi Arabia were also present at the occasion.