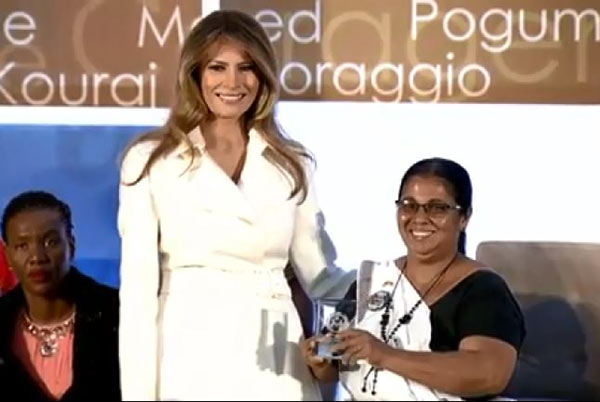 Missing Journalist Prageeth Eknaligoda's wife Sandya Ekneligoda was a recipient of 'International Women of Courage Award for 2017' from US First Lady Melania Trump at a ceremony held at the US State Department yesterday.
Each year, the US State Department recognises the exceptional courage and commitment of women who serve as advocates for human rights, justice, peace, and gender equality.
Sandya Eknaligoda was among the 13 extraordinary women honored with awards yesterday.
US First Lady Melania Trump and Acting Deputy Secretary of State Tom Shannon were the chief guests at the occasion. Undersecretary of State for Political Affairs Thomas A. Shannon introducing Eknaligoda to the audience said she was being honored for "her relentless pursuit of the truth about those who have disappeared during conflict, holding the government accountable, and bringing hope to others suffering a similar fate".
"When her husband, a well-known political cartoonist and journalist, disappeared in January 2010, Sandya resolved to seek the truth about his fate.
She appeared in court more than 80 times in the face of obstructionist judges and authorities. Sandya has become a symbol for the many thousands of persons who have suffered the loss of disappeared relatives over the course of the 27-year civil war and earlier insurrections" Shannon said.
Malebogo Molefhe (Botswana), Rebecca Kabugho (Democratic Republic of the Congo), Major Aichatou Ousmane Issaka (Niger), Veronica Simogun (Papua New Guinea), Nguyen Ngoc Nhu Quynh (Vietnam), Saadet Ozkan (Turkey), Jannat Al Ghezi (Iraq), Sister Carolin Tahhan Fachakh (Syria), Fadia Najib Thabet (Yemen), Sharmin Akter (Bangladesh), Natalia Ponce de Leon (Colombia) and Arlette Contreras Bautista (Peru) were among the others who received awards yesterday.
(Source: Daily News)