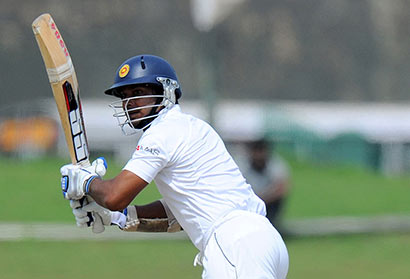 Star batsman Kumar Sangakkara has regained the number-one Test batting spot in the ICC Player Rankings for Test Batsmen following his 10th double century in the Galle Test which Sri Lanka won by seven wickets to lead Pakistan by 1-0 in a two-Test series.
Sangakkara, who won the ICC Cricketer of the Year and ICC Test Cricketer of the Year awards in Colombo in 2012, scored 221 and 21 in the Test, which earned him 31 ratings points that, in turn, helped him to dethrone AB de Villiers from the top pedestal. The South African had snatched the number-one spot from his team-mate Hashim Amla in October 2013 and spent a total stretch of 287 days and 33 Tests at the top.
Sangakkara had first surged to the top of the batting charts in December 2007 when he replaced Ricky Ponting, while he last claimed the top spot in November 2012 in Galle before Australia's Michael Clarke dislodged him following his 230 against South Africa in the Adelaide Test.
Sangakkara has now spent a total of 81 Tests and 671 days as the top-ranked Test batsman. ICC Hall of Famer Garry Sobers holds the record for the most Tests spent as number-one with 189 while Viv Richards is second with 179.
Sri Lanka captain Angelo Mathews has continued to make gains on the rankings table. He has moved up one position to enter the top five for the first time in his career, following his contributions of 91 and 25 not out.
Mahela Jayawardena, playing his last Test series, has retained 14th position following his contributions of 59 and 26, but will seek to make his farewell Test a memorable one, which can potentially help him end higher on the rankings table.
In the ICC Player Rankings for Test Bowlers, Man of the Match Rangana Herath has been rewarded for his match figures of nine for 164, which included an impressive six for 48 in the second innings, with a jump of two places. He now sits just outside the top five in sixth position.
(The Island)