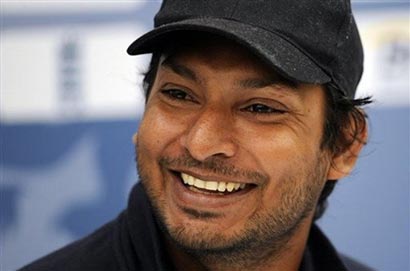 Veteran Sri Lankan batsman Kumar Sangakkara has announced that he will retire from Twenty20 Internationals after the conclusion of the ongoing ICC World T20 tournament in Bangladesh.
The 36-year-old Sangakkara, who has featured in all the five World T20 tournaments so far, said the event that gets underway today in Bangladesh will be his last.
"Ya, definitely without doubt this is my last World T20. I won't be playing any T20 Internationals after this. It's sad, but that's the truth," he was quoted as saying by a local newspaper.
"It's not the end of my T20 career though. I would like to play franchise-based T20s. Once your World Cup prospects are over you should give the next crop of players an opportunity. It's a natural progression," Sangakkara, who has played 50 T20 Internationals for Sri Lanka, scoring 1311 runs at an average of 32.77 and a strike rate of 120, said.
The former captain, however, insisted that he would be keen to continue playing in the ODIs, at least till next year's World Cup in Australia and New Zealand.
"Hopefully, I will be in form and my fitness stays and I am looking forward to it. There are so many ifs and buts in cricket. The 2015 World Cup is my immediate target.
"I will have a chat with the selectors to see where the future lies," he said.
Sangakkara, who had led Sri Lanka to the final of the 2009 World Twenty20 and was also an integral part of the team that reached the final of 2012 – both of which ended in defeats, hoped that his team would not commit the same mistakes that they did in the previous tournaments.
"We had a fine opportunity in 2009. We won the toss and it was a beautiful wicket to bat on. We were 64 for five and ended up making 138. If we had got to 150, we would have won.
"In the 2012 final, we could have restricted the West Indies to 110 or so. But we gave away too many runs towards the end and it was a tough wicket to chase. I don't think we played to our capabilities," the former captain recalled.
"The Pakistan side was a good side against spin, and we played well in the semi-final against them. We knew going into the final that anything over 140 was going to be tough. You may go into a final with an unbeaten record, but unfortunately, you can be beaten and that's the reality," said Sangakkara. – PTI