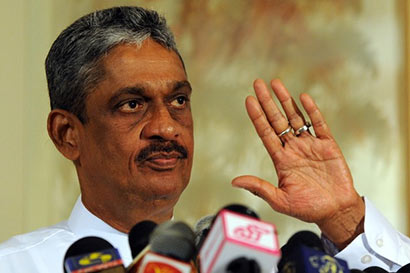 Onlanka News – by Walter Jayawardhana
The Provincial Council election results scream for the unity of the opposition political parties of the country to deliver the nation from rulers rotten with corruption as an absolute necessacity said former army commander Sarath Fonseka addressing a meeting in Kurunegala.
Addressing a group of intellectuals in the North Western city Fonseka said the polity of the country during the last 50 years did not do good to the country except in 2010 elections when all opposition parties were united under one banner and that was a reason that he was attracted to seek political office in the country.
|He said the provincial council elections definitely show the opposition political parties should compulsorily unite to pull out the country from the depths of rotting corruption the rulers have pushed the nation into.
Addressing a different meeting at Bandaragama the former army commander said today sons of corrupt politicians assault high army offficials and police fail to arrest them for weeks during which time they appear on TV taking part in public functions where police in thousands take part. Fonseka reminded when he was the army commander not high officials of the army even ordinary soldiers of the army were not touched by the rowdy  sons of corrupt ministers. In those circumstances not only the sons but even the corrupt dads would have been behind bars.
He reminded Hirunika Premachandra, a lady in the opposite side but crying for the great injustice done to her father by drug king pins ,  that she would not have been in this plight if not for corrupt rulers of the country.