SARATH FONSEKA SURPRISED HOW POLITICIANS WHO NEVER HAD A GAINFUL JOB BUILDING MANSIONS TODAY
Posted by Editor on July 19, 2012 - 7:51 pm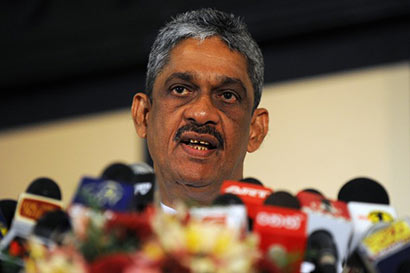 Onlanka News – by Walter Jayawardhana
Speaking about the rampant corruption in the country Former Army Commander Sarath Fonseka said at a meeting at Kottawa he was often reminded of his grandfather who built a house with three rooms. His father who became a headmaster of a school also was able to build a house with three rooms for the family.
He said when he became the army commander he too was able to build a house for the family with three rooms.
Recently, he was travelling with his wife and saw a big mansion. On inquiry he came to know it belonged  to a former revolutionary member of a political party who claimed to be fighting for the downtrodden masses. He is no longer in his former party and has become a powerful minister. His mansion was surrounded by sentry posts and a six to fourteen feet high wall. "Each sentry post was bigger than my three roomed house," Fonseka said.
One naturally inclined to think how a man who did not have any other business than a little communication house where a telephone was rented became so rich, the former commander of the army queried.
"We must build a country where the people are not compelled to kneel down before politicians,"Fonseka said.
Latest Headlines in Sri Lanka