SLMC back in UPFA after polls – Keheliya
Posted by Editor on July 20, 2012 - 7:47 am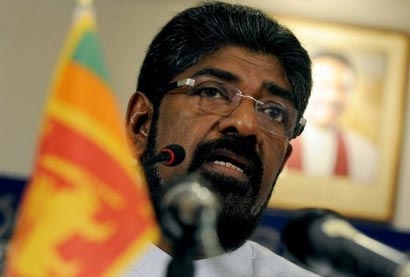 The Sri Lanka Muslim Congress (SLMC) will join the UPFA after winning the Eastern Provincial Council. In the past, on many occasions the UPFA allowed many political parties to contest alone keeping their own identities and this is not the first time it has happened. It depends on the uniqueness and requirements of relevant areas, Cabinet spokesman and Media Minister Keheliya Rambukwella said.
According to Minister Rambukwella, President Mahinda Rajapaksa's blessings are always with his party, the SLFP and not with any other political parties, but it does not mean that all political parties cannot work together.
"Working with many political parties is not something simple. Therefore, the government always takes the best possible decision. The government is managing the country according to a national agenda and not according to a political agenda that aims at elections. The government has no problem about appointing Chief Ministers. That is how the prices of goods were brought down," the minister said.
Minister Rambukwella pointed out that President Mahinda Rajapaksa proposed a temporary ban on the party membership of all politicians who had been accused of various child abuse incidents and this directive has already been implemented. Nominations have been granted for the relations of SLFP politicians who have already been in politics.
"Nominations were given only for those who joined politics before the new rule.
It is people's democratic right to bring a politician to power according to their wish. The Cabinet decided not to give nominations to those who had been accused of various crimes. Stringent punishment will be meted out to SLFP politicians who have been engaged in child exploitation cases, if found guilty. It is not only the SLFP politicians who had been accused of crimes. Politicians from many other political parties had been accused of the same," Minister Rambukwella added.
Courtesy: Daily News
Latest Headlines in Sri Lanka