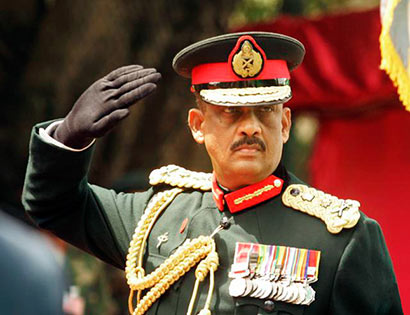 The Government has decided to award the Field Marshal title to former Army Commander General Sarath Fonseka for the yeoman service rendered by him, achieving the victory over terrorism. The official awarding of this honorary title to General Sarath Fonseka by President Maithripala Sirisena will take place on Sunday (22) at Ministry of Defence.
The title Field Marshal is an honorary and respected title bestowed by the Army. Only a handful has been given this title in the world. General Sarath Fonseka is the first Sri Lankan to be bestowed his Field Marshal honorary title in Sri Lanka's history. A person who has been honoured with the Field Marshal title is considered an infinite hero.
Military Chiefs in Pakistan, India, Nepal, the United States, Britain, Germany, Uganda, Australia and Egypt have been awarded the Field Marshal title. Abdullah Farma Elsijin, the Egyptian military chief was the last to be awarded the Field Marshal title.
General Sarath Fonseka is being bestowed with this title for the pivotal role he had played in uprooting terrorism from the country waging a battle between his life and death. He even came under a suicide attack mooted by the LTTE and thereafter suffered serious injuries. Sri Lanka is fortunate that he was able to survive after this treacherous attack.
Sarath Fonseka was bestowed the title General on 18th May as he was considered the destroyer of Eelam. It has been written in golden letters in history due to talents and skills displayed by General Fonseka in wiping out terrorism from the country leading nine Brigades at the same time during the humanitarian operation.
(Government News Portal)