Sarath Fonseka will be released soon: President Mahinda Rajapaksa
Posted by Editor on May 16, 2012 - 9:35 am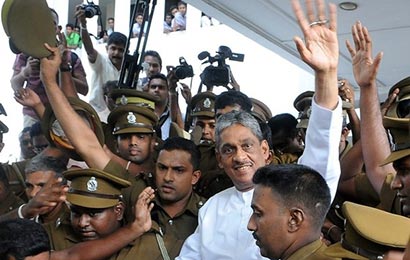 Jailed former Army Commander of Sri Lanka Sarath Fonseka, who led the Eelam war IV against the Tamil Tigers and helped win it, is set to be released shortly.
"We will release him soon," Sri Lankan President Mahinda Rajapaksa told The Hindu on the sidelines of a function organised to launch a book, Gota's War, here on Monday.
MP's role
Mr. Rajapaksa said the person who tried hard to secure Gen. Fonseka's release, Member of Parliament Tiran Alles, was out of the country.
Mr. Alles was in the U.K. and he was cutting short his visit to reach Colombo on Tuesday, a source said. "He [Mr. Alles] has to get the credit for the release [of Gen. Fonseka]," the President said.
Mr. Alles had been liaisoning with the President over the past many months. He had been a close associate from the time the former General ran for office. Mr. Alles was in touch with the President from the U.K.
Earlier, the government had insisted that Gen. Fonseka or his family members appeal to the President for pardon.
Gen. Fonseka, soon after leading the Army to victory against the LTTE in May 2009, tried to cash in on his popularity. He ran for the office of President in 2010, against his one time Commander-in-Chief Mr. Rajapaksa. He suffered a crushing defeat. He was arrested in February. He was convicted by both military and civil courts and stripped of his military ranks in August 2010.
Gen. Fonseka was recently moved to a hospital for treatment amid some drama over the choice of the hospital. Finally, the government agreed to his choice.
Hearing postponed
Meanwhile, the Colombo High Court on Monday postponed till June 7 a case filed by the Attorney-General against Gen. Fonseka for harbouring Army deserters during the presidential election in 2010.
Gen. Fonseka's counsel told the court that he was undergoing treatment and requested postponement of the case.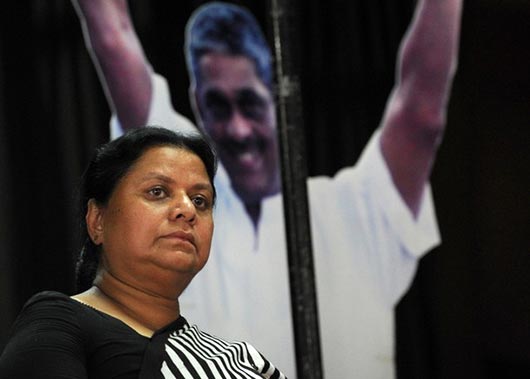 The Hindu / Pix by Getty Images
Latest Headlines in Sri Lanka