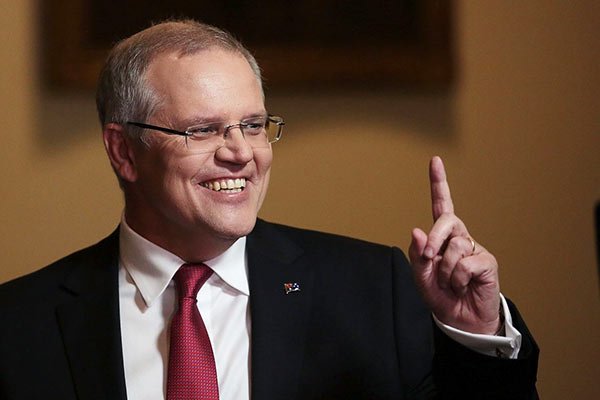 Treasurer Scott Morrison has been sworn in as Australia's prime minister to replace Malcolm Turnbull after a Liberal Party coup.
Mr Morrison, an ally of deposed leader Mr Turnbull, won a three-way battle for the leadership.
The other two contenders were former home affairs minister Peter Dutton and foreign minister Julie Bishop. Mr Turnbull opted not to contest the vote.
Liberal Party whip Nola Marino announced: "The successful candidate was Scott Morrison. He won this vote 45-40 against Peter Dutton.
"In relation to the deputy's position, this was won in a overwhelming sense, in a majority, an absolute majority, by Josh Frydenberg."
Speaking to the media in Canberra, Mr Turnbull said he will quit politics now his replacement has been chosen.
He said: "I want to thank the Australian people for everything they've done. It has been such a privilege to be the leader of this great nation.
"I love Australia. We have the most successful multi-cultural society in the world and I have always defended that.
"We must never allow the politics of race or division or of setting Australians against each other to become part of our political culture."
It is Australia's sixth change of prime minister in 11 years, prolonging an era of extraordinary political instability.
The leadership battle was sparked on Tuesday by an unsuccessful challenge by Mr Dutton, who narrowly lost a vote against Mr Turnbull.
Under intense pressure to call a second vote, Mr Turnbull convened a party meeting on Friday after receiving a letter signed by the majority of party members calling for a change of leader.
Before the ballot, Mr Turnbull said that if he lost the prime ministership he would resign from parliament, leaving the new government facing a by-election for his Sydney seat that could see it lose its one-seat majority.
Mr Turnbull came to power in a party-room coup in September 2015.
A social liberal and multi-millionaire former merchant banker, he struggled to appeal to conservative voters and only narrowly won a general election in 2016.
Mr Morrison, a devout Christian, is widely regarded as a conservative who respects moderates but has a tough stance on immigration.
The 50-year-old rose to public prominence when the conservative coalition government was first elected under prime minister Tony Abbott in 2013 as the minister who stopped asylum seekers from attempting to reach Australian shores by boat.
Mr Morrison's victory was welcomed by financial markets, which have been rocked by the political instability.
Australian shares edged higher on Friday, rebounding after three days of losses that saw the benchmark fall 1.5%.
The Liberal Party is the senior partner in the ruling conservative coalition that will face an election by May 2019.
The Liberal-National government has consistently trailed opposition Labor in opinion polls in recent months.
(Source: Sky News)