SF voting on Saturday: Polls Chief says nobody raised objections
Posted by Editor on March 31, 2014 - 8:14 am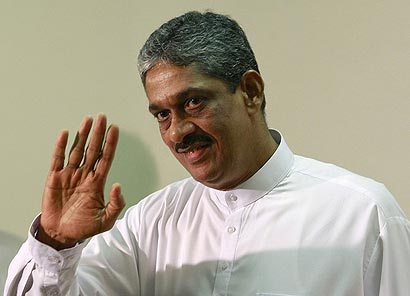 Elections Chief Mahinda Deshapriya yesterday maintained that whether General Sarath Fonseka has his civic rights or not did not concern him. If the SLFP had had any objections to his voting its area politicians should have objected when the voter register in that area was put on public display, Deshapriya said.
"Only if some one raises objections I can inquire and see whether he had registered in terms of the Voter Registration Act of 1980 and if Gen. Fonseka has registered in violation of the act I can institute legal action against him", he said.
The address he had of Gen.Fonseka was Welipara, Katupotha, the Election Commissioner said, adding that, for that matter, even S.B. Dissanayake had contested after losing his civic rights, but no one had challenged it.
The Democratic Party said that under Section 89 (d) of the Constitution, Fonseka was not disqualified from casting his vote at an election and accordingly he had exercised his franchise on Saturday at the polling station at Sumanasara Maha Vidyalaya in Batakeththara, Piliyandala.
Fonseka told a news channel after voting, " I came to this polling station today and cast my valuable vote for the Democratic Party, for the first time. Through this I have shown all people in this country who appreciate democracy that my civic rights have not been withdrawn."He added: "The Elections Commissioner and the Elections Department have accepted today that constitutionally my civic rights are intact. For the first time in my life I went to the enclosure and marked my ballot. Although I have cast my ballot through postal voting in the past, I have not come to a polling station and cast my ballot. I did not think that one day, by the will of the gods, I would come to a polling station, enter the enclosure and cast my ballot as the leader of the Democratic Party – founded by me. This is a special occasion today."
The former army commander was stripped of civic rights when he was jailed under the white-flag case. He was granted a conditional presidential pardon in May 2012.
(The Island)
Latest Headlines in Sri Lanka