Voters showed govt the red light – UNP
Posted by Editor on March 31, 2014 - 8:20 am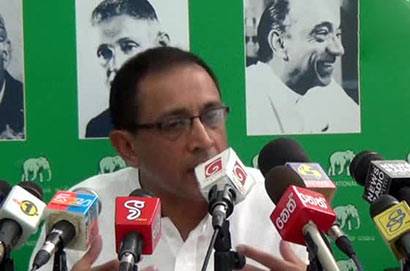 Through the Southern and Western Provincial Council (PC) elections results, the public had shown a red light to the government and implied that they are ready to topple it, the United National Party (UNP)said yesterday.Addressing the media at Sirikotha, UNP Leadership Council (LC) member Kabir Hashim said, when compared with the previous PC election held in 2009, the government's vote base had reduced  by nearly 250,000 votes in Southern and Western Provinces. With the decrease in the government's vote base and the rise of the opposition, toppling the government was possible if the Opposition stands together.
Hashim said while the government's vote base had declined, the UNP was able to secure its base in both provinces.
"Some people even predicted that the UNP would be in the third place, but we were able to secure our position," he claimed.  He pointed out that the government misused State property for its election campaign, but still its vote base had decreased.
"Even the President took part in major election meetings and requested the people to vote for the government, by highlighting the UNHRC resolution. Still the vote base of the government decreased," he added.  Hashim admitted that if internal conflicts within the party were settled, the UNP would have obtained more votes. He added that the UNP needed to think why they could not attract more anti-government votes.
Commenting on the progress made by the Janatha Vimukthi Peramuna (JVP) and Democratic Party (DP) Hashim said, the UNP is happy about their progress and that people were voting against the government.
(Ceylon Today)
Latest Headlines in Sri Lanka