Herath spins New Zealand out of WT20 with 5 for 3
Posted by Editor on April 1, 2014 - 8:21 am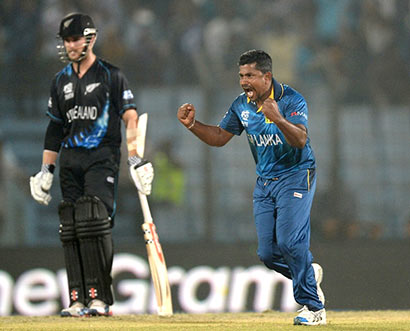 Rangana Herath sprung from Sri Lanka's dugout, watched his team-mates collapse, then crafted a Twenty20 spell of astounding quality to slam New Zealand into a wall, claiming five wickets for three runs as Sri Lanka defended 119 and made the semi-finals. He arrived at the bowling crease in the third over, delivered a wicket maiden first up, and had three scalps before New Zealand scored a run off him. By the end of his three-over spell, New Zealand were 30 for 5 – effectively 6, as a dislocated finger prevented Corey Anderson from batting. Kane Williamson batted gamely, hitting 42 off 43 – the game's top score – but he could not overcome the carnage at the other end.
The dew Brendon McCullum had expected at the toss in this must-win game did not materialise, and though an attack led by Trent Boult justified his decision to chase, his batsmen were stunned to a stall in the Powerplay. They managed 60 for 9 in 15.3 overs, as Sachithra Senanayake and poor running contributed the remaining wickets.
One of those run-outs would provide Sri Lanka and Herath the opening they had been desperate for, with at least 30 runs too few on the board. Martin Guptill pushed a full Herath delivery gently towards mid -on, and though he set off for the single immediately, Williamson did not respond. Herath collected, turned and threw smartly to complete that first wicket, but it would be his next 11 balls that truly defined the match.
Brendon McCullum was kept scoreless for four balls before Herath tossed one up slow and wide, reading McCullum's advance, before he spun Ross Taylor in his web next over. Taylor survived a plumb lbw shout, but was out to a straighter one immediately. James Neesham played all around one that straightened, and when Luke Ronchi was trapped in front by another straightening ball next over, New Zealand had been knocked breathless.
Crucially, the top-order collapse had been dramatic enough to subdue New Zealand's typically-ebullient middle order. Nathan McCullum hit two runs from his first eight balls before clipping Senanayake straight to short midwicket, before Senanayake trapped Kyle Mills in front with one that replays suggested would head down leg.
The required rate had spiked higher than 12 when Herath returned for his final over, and the wicket that sealed the victory came in fitting fashion. Herath not only completed his five-wicket-haul when Trent Boult hit one to slip, the catch was also gobbled by Mahela Jayawardene, who despite what the teamsheet stated, was Sri Lanka's captain on the night. He had kept a short leg and slip to the spinners, after Brendon McCullum had been similarly aggressive with his fields in the first innings.
If Herath had been the exemplary spinner, New Zealand's attack had earlier shown how to bowl seam on such pitches. Boult found movement in the air and off the surface, pitching up to the left-hand batsmen as he shaped it away and back-of-a-length to the right-hand batsmen, cramping them. Dilshan had been struggling for timing throughout the tournament, and his tortured innings came to an end when he scooped one high into the keeper's gloves in the third over. Sangakkara was limp in his 11-ball knock, and the middle order would crumble around Jayawardene, who did not appear fluent himself.
New Zealand fielded superbly as Neesham, Mitchell McClenaghan and Nathan McCullum bowled impeccable lines through the middle overs. Nathan would taunt Jayawardene into the sweep that ended his innings, and left Sri Lanka at 85 for 6 at the end of the 15th over.
Sri Lanka batted deep, with Senanayake coming in at No. 9, and it was his strike to long-on that would cause Anderson's injury on the rope, as the fielder palmed a relatively straightforward catch over the boundary.
New Zealand were energetic at the change-of-innings, feeling, perhaps rightly, that they had a terrific chance, but it was to be Herath and Sri Lanka that earned their sixth straight semi-final in ICC events. (ESPN CricInfo / Pix by GettyImages)
Latest Headlines in Sri Lanka