Shame on Sri Lanka Cricket – Arjuna
Posted by Editor on September 10, 2013 - 8:15 am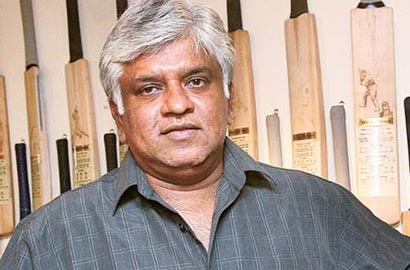 World Cup winning cricket captain Arjuna Ranatunga has blamed Sri Lanka Cricket (SLC) for the national cricket team's curtailed tour of England next year. Since Ranatunga masterminded Sri Lanka's first ever win on English soil, the country has been granted three Tests in England, but the next year's schedule announced by English and Wales Cricket Board (ECB) includes only two Test Matches.
Since gaining Test status in 1982, England had granted Sri Lanka just one off Tests and Sri Lanka's stunning victory in 1998 at The Oval changed things for the good as Ranatunga embarrassed the hosts in the post match media conference. Asked why ECB continued to give his country just one off Tests, Ranatunga said that England were afraid of losing 3-0 to Sri Lanka.
Since then, all Lankan tours of England in 2002, 2006 and 2011 have been three match affairs.
"It pains me to no end and I am sure that's the case with those who toiled for the betterment of Sri Lankan cricket over the years and the fans. Convincing ECB to grant us more Tests was quite a battle and I am hurt that we have lost out on a three Test series next year," Ranatunga said in an interview with The Island.
"People who have no love for the game are running cricket and what we have now is a pathetic situation. I am surprised that no one has even objected to reduction of Tests," Ranatunga added. The Upali Dharmadasa – Nishantha Ranatunga run cricket administration cancelled as many as ten Tests in 12 months including a high profile three match Test series against South Africa, world's number one ranked team.
SLC officials yesterday washed their hands off saying only a two Test series was on schedule according to the Future Tour Programme (FTP) for next year, but the fact remains that they can not absolve themselves as they had hosted England for a two Test series at home in order to let the national cricketers play the full IPL in 2012. Therefore the ECB is not bound to provide more than two Tests on the reciprocal tour.
"You can't take popular decisions to be among the good books of players. You have to take decisions on what is better for the game. You don't want puppets making decisions for our cricket. Those players who have played over 100 Tests wouldn't mind, but I feel for the younger players who would have benefited by playing a three Test series. Today puppets are running SLC," Ranatunga said.
"I never played a Test series in England. I always played one off Tests. Our senior cricketers have a moral obligation as well to take a keen interest in playing more Test cricket. You need money to live, but there's no point in selling your soul for the sake of money. I am disgusted that those players who preach so eloquently on the value of Test cricket do nothing to protect Test cricket when they have an opportunity."
"I tend to think whether our administrators work for the betterment of Sri Lankan cricket or for the betterment of Indian cricket. We have lost out on a Test Match and who has benefited from that? India. As a result India will be playing five Tests in England next year. I think it's the first time since 1959 that India are playing a five Test series in England and that has come at our expense. Shame on Sri Lanka Cricket." Ranatunga concluded.
(Courtesy: The Island)
Latest Headlines in Sri Lanka