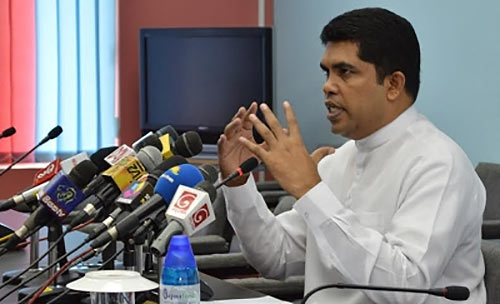 Former Deputy Minister of Mass Media and Communication Shantha Bandara denied news reports that he will be leaving the Sri Lanka Freedom Party (SLFP) to join the United National Party (UNP).
Speaking at a media briefing held in Colombo yesterday (07) he condemned the statement made by the Minister of Plantation Industries Lakshman Kiriella, where he had stated that the former deputy minister will be joining the UNP in order to contest in the upcoming polls.
"I have not discussed with anyone about leaving the SLFP to join UNP to contest under their ticket. I have and always will be a part of the SLFP. And will contest in the coming elections from the SLFP and the United People's Freedom Alliance. This blatant lie was concocted by those in the UNP who wanted to destroy my hard earned political image," he said.
He added that he will take the most vigorous legal action against both the minster and the media institutes who reported the story for fabricating misleading stories.
"I will take this matter to the court and I have already commenced discussions regarding the matter with my lawyers. I will take legal action against anyone who is directly and indirectly involved in this misleading story. If anyone thinks that I will do the same thing as the goat that followed the fox; then they are mistaken."
However Minister Kiriella could not be contacted for a comment on the matter.
(Ceylon Today)