Shashika ranked second in the world
Posted by Editor on December 19, 2013 - 9:13 am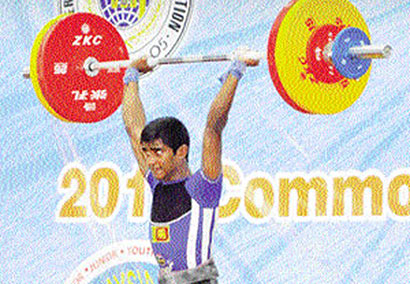 Weightlifting prodigy Shashika Ekanayake who won a gold medal at the recently held Commonwealth Youth Weightlifting Championships has been ranked second in the world in his weight class according to latest rankings issued by the International Weightlifting Federation.
Ekanayake is sharing the second spot with Jong Ju of Korea, while Chinese champion J. I. A. Xionghui is ranked world number one in the youth category.
The 17-year-old who has a personal best of 206kgs is ranked second for his performance (197kgs) in Penang last month where he won the gold medal in the 50kgs weight class at the Commonwealth Youth Weightlifting Championships.
There are only two South Asians in the top ten and India's R. U. Jamjang is ranked fifth for a total weight of 195kgs.
In the women's category Royal College, Polonnaruwa weightlifter Dinuda Abeysekara is ranked 11th in a list dominated by Chinese, Thailand, Korean and Mexican weightlifters.
(Courtesy: The Island)
Latest Headlines in Sri Lanka