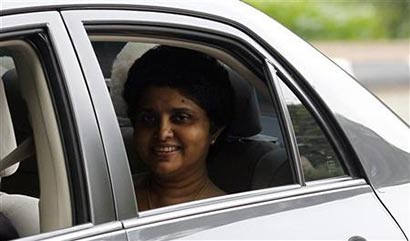 Former Chief Justice Dr. Shirani Bandaranayake, in a motion filed in the Supreme Court yesterday, has said that she is still the Chief Justice of this country.
In reply to notice issued by the Supreme Court, regarding a special leave to appeal application, she has said that she will not participate in the case proceedings as a respondent.
The appeal is against the Court of Appeal order, dated January 7, 2013, whereby that Court quashed the findings of the Parliamentary Select Committee, which found Dr. Bandaranayake guilty of misconduct.
The Court of Appeal order was consequent to a Supreme Court ruling which said that Standing order 78A was not law by an Act of parliament. Hence, a Select Committee, appointed under a standing order, could not conduct impeachment proceedings as said in the Constitution of Sri Lanka.
Dr. Bandaranayake has said that therefore her impeachment is null and void and had no effect, according to the law of the land and asserted that she is the Chief Justice.
The motion had been filed by Neelakandan and Neelakandan Associates, the instructing attorneys for Dr. Bandaranayake. (Courtesy: The Island)