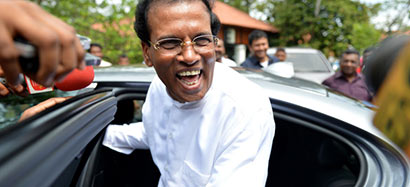 The security provided to the three Cabinet Ministers and the Deputy Minister who left the Government on Friday has been withdrawn and they have been provided with the security that is accorded to MPs, Police spokesman Ajith Rohana said yesterday. They include former Health Minister and the ruling SLFP's former General Secretary Maithripala Sirisena who will be the joint opposition common candidate for the January 8 Presidential election.
The additional vehicles given to them also have been withdrawn, the Sunday Times learns. MPs are provided two policemen each for security. Meanwhile former Education Services Minister and Anuradhapura District Parliamentarian Duminda Dissanayake handed over his official residence yesterday. Sources close to Mr. Dissanayake said his ministerial security had been withdrawn and he had been provided with two police personnel for security.
However, Mr. Dissanayake had refused to accept their services saying he had concerns for his personal security and hence named two members of his former security detail to be assigned to him.
(Courtesy: The Sunday Times)