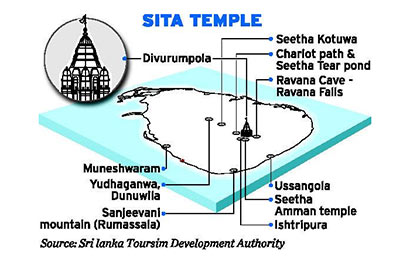 – Submitted by Walter Jayawardhana –
Away from the current political turmoil, in the quiet hills of Sri Lanka, plans are afoot to build a temple for goddess Sita at Divurumpola, near Nuwara-Eliya, a place believed to be associated with the Ramayana.
The website of the Sri Lanka Tourism Development Authority (SLTDA) says it is where Sita underwent 'Agni Pariksha' (test by fire).
Chief Minister of Madhya Pradesh Shivraj Singh Chauhan mooted the project in September 2012 when Sri Lankan President Mahinda Rajapaksa visited Sanchi to inaugurate the University of Buddhist-Indic Studies. Mr. Chauhan offered to fund the project, sanctioning Rs. 1 crore. Those familiar with the project told The Hindu that the Sri Lankan government recently cleared the building plans, and construction would begin soon.
However, sources in the Indian government said they had had only preliminary discussions on the feasibility of the project in the past. But if it was now pursued by private organisations, the government would not have much of a role in it.
When the project is completed, it will be the second Sita temple in Nuwara–Eliya, after the one at Sita Eliya, a Ramayana heritage site.
In 2007, the SLTDA set up a committee to identify Ramayana heritage sites and develop a Ramayana trail for the 'Indian market.' So far, 50 sites have been identified, including the 'groves of exotic herbs dropped by the monkey god Hanuman' and 'the ultimate theatre of war,' where Rama slew Ravana. In sites like Divurumpola, new structures are under consideration.
However, the Royal Asiatic Society of Sri Lanka, an academic organisation established in 1845, severely contested this project. It organised a symposium in 2010 to demonstrate that these sites were invented by experts appointed by the SLTDA, who distorted archaeological evidence.
The papers hosted on the Society's website criticise the Ramayana trail as a project meant to enhance the declining tourist arrivals. But this has not stopped the government, and the SLTDA has taken up the Ramayana trail as one of its important projects (Courtesy: The Hindu)