SL HC meets Jayalalithaa
Posted by Editor on July 22, 2011 - 9:23 am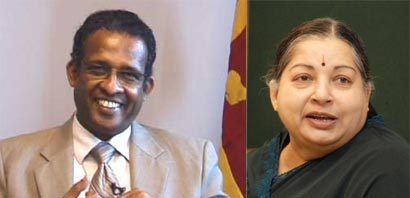 NEW DELHI, July 21: Sri Lankan High Commissioner to India Prasad Kariyawasam today met Tamil Nadu Chief Minister Jayaram Jayalalithaa in Chennai—-the first such meeting between a Sri Lankan envoy and the state chief minister in more than half a century.
The Island understands from authoritative sources in Chennai that the meeting was cordial and friendly. Ms Jayalalithaa was extremely courteous to Kariyawasam and his two colleagues from the Deputy High Commission in Chennai, listened carefully and asked questions with deep interest and concern.
The meeting took place in the chief minister's office in Fort St George, and lasted 45 minutes. Kariyawasam presented a bouquet to her, and conveyed greetings and congratulations from President Mahinda Rajapaksa for her recent impressive electoral victory and return to office as the chief minister for the third time.
The high commissioner is understood to have briefed Ms Jayalalithaa on the ongoing rehabilitation and resettlement of internally displaced Sri Lankan Tamils in the Northern Province.
He also told her about the reconciliation efforts being made by the Rajapaksa government, such as the work of the Lessons Learnt and Reconciliation Commission (LLRC), the structured dialogue between the government and the Tamil National Alliance (TNA), and the nearly half a dozen meetings the president has had with the TNA parliamentarians so far. He presented her with documents detailing both the processes.
The envoy informed her that the Sri Lankan government was providing help to the more than 11,000 former Tamil Tigers who had been captured when the war ended. More than 8,000 of them had already returned to mainstream, and the rest would do so in the near future, he told her.
Kariyawasam extended her an invitation to her on behalf of the Sri Lankan Government to visit the Northern Province to see for herself the resettlement process. He also invited a delegation of members of parliament (MPs) from the state to observe the efforts being made to resettle the Tamil IDPs in the Jaffna peninsula.
Sources said Ms Jayalalithaa had raised the issue of the arrest and harassment of Tamil Nadu fishermen in the Palk Bay. She highlighted the need to re-democratise the Northern Province by holding elections there as soon as possible. She felt that the process of reconciliation too should be expedited early, and the island's Tamils should be given what was their due so that they could get on with their lives without any further loss of time.
Significantly, she did not say anything about the so-called "war crimes" that the United Nations and the global media say were committed by the Sri Lankan security forces in the months before the war ended with the killing of Velupillai Prabhakaran on 18 May 2009.
Kariyawasam was accompanied by Chennai-based Deputy High Commissioner Vadivel Krishnamoorthy and Minister Counsellor Ajwad. Ms Jayalalithaa was accompanied by the state's Chief Secretary Debendranath Sarangi and five other senior officials.
Courtesy: The Island
Latest Headlines in Sri Lanka