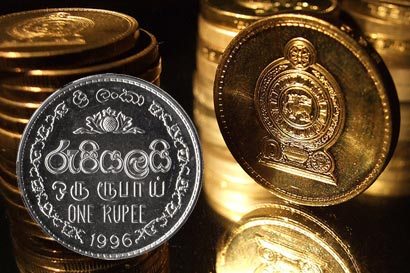 Sri Lanka's central bank is not contemplating a fresh move to devalue its rupee currency this year, its Gov. Ajith Nivard Cabraal said on Monday, contrary to market speculation due to a looming balance of payment crisis.
The governor's assurance comes a week after Treasury Secretary P.B. Jayasundera said the country needed a flexible exchange rates to curb cheap imports that are putting pressure on the US$50 billion economy.
"We are not contemplating any depreciation move for this year." Cabraal told Reuters, also denying a local media report published on Monday.
On Novewmber 21, President Mahinda Rajapaksa, in his capacity as the finance minister, shocked markets with a 3 per cent currency devaluation aimed at making the island nation's exports competitive.
Currency dealers said there was pressure on the rupee due to speculation that it would be devalued in early 2012, with importers attempting to buy dollars to settle their bills, while exporters were holding back greenback.
On Monday, the central bank pumped US$20 million into currency markets for a 28th straight session since the devaluation to defend the rupee at 113.90 per dollar.
The bank has spent around US$710 million to keep the exchange rate steady since the 3 per cent devaluation on November 21. It spent a net US$1.36 billion in the first nine months of the year to keep depreciation pressure at bay.
Courtesy: DM Online