SLC, Randiv apologise to Sehwag for no-ball incident
Posted by Editor on August 18, 2010 - 6:44 am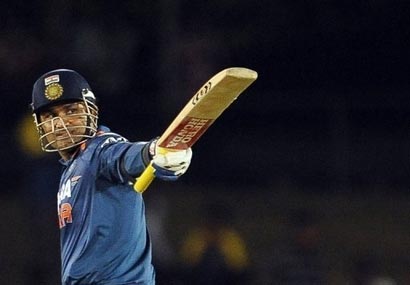 Pix by AFP
Sri Lanka Cricket and offspinner Suraj Randiv have both apologised to Virender Sehwag for denying him a one-day century after a deliberate no-ball from Randiv ended the match and left the India opener stranded on 99, despite him hitting the delivery for six. SLC has also asked for an enquiry in to the incident.
Sehwag went on to criticise Randiv's actions in the post match press conference, and SLC secretary Nishantha Ranatunga called India manager Ranjib Biswal this morning to apologise.
"Today in the morning, Sri Lanka Cricket secretary Nishantha Ranatunga called me up expressing his regret about yesterday's no-ball incident. He expressed his regret officially and asked me to convey it to the Indian team, particularly to Sehwag. They have also assured that they will look into the matter officially, why it happened and correct the procedure."
Meanwhile Sehwag revealed on Twitter that Randiv had apologised to him personally. "Hi guys. Randiv came to my room n(sic) apologize," Sehwag wrote.
Biswal said it was clear everything had happened in the heat of the action and now that Sri Lanka had apologised, it was time to move on.
"Randiv has himself gone to Sehwag's room and apologised for his action. I believe Sanga [Kumar Sangakkara] has spoke to Gary [Kirsten] and expressed his regret. So basically, it was done in the spur of the moment and once that action seeped in, people realised that they have made a mistake and they have come forward and expressed their apology.
"If you go by the rules, it's very much lawful. There is no violation of cricket rules. But when it comes to spirit of cricket and gamesmanship, one feels slighted about these things. Since they have expressed their regret and apologised for their action, we should put an end to this episode."
Ranatunga said the SLC has asked the team manager, Anura Tennekoon, to investigate the incident and will decide whether any further action is needed after seeing his report.
"We have asked him to probe the incident. We will take necessary action in this regard once we get the report. We are upset about the incident and we are unhappy as Sri Lankan cricketers have won the ICC spirit of the game award thrice and these things won't be tolerated," he said.
Sehwag was on 99 with India needing just one run to win, when Randiv overstepped the line by a large margin. Sehwag smacked the ball over long off but the runs did not count as the no ball meant India had already won the game.
After the game, Sehwag said Sri Lanka had used such tactics in the past, having left Sachin Tendulkar stranded at 96 with a similar strategy in a match in Cuttack.
"It was clear that the Lankan team did not want me to get to my 100," Sehwag said.
Cric Info
Latest Headlines in Sri Lanka