SLFP's 60th anniversary commemoration: SLFP's strength, country's strength -President
Posted by Editor on September 4, 2011 - 8:58 am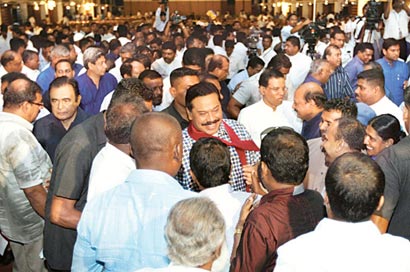 President Mahinda Rajapaksa said yesterday that as long as the people flock around the Sri Lanka Freedom Party (SLFP) no force can defeat the country.
He made this observation at the 60th anniversary of the SLFP at Temple Trees held under the theme Minisun Samaga 60 Wasarak (60 years with the people).
President Rajapaksa also stated that the SLFP has identified the real needs and heart throb of the common people and they will remain with the SLFP, and as long as they remain with the SLFP, no one could defeat Sri Lanka.
President Rajapaksa said that during the last six decades, governments under the SLFP had rendered an immense service to the people at very crucial occasions, one being introducing the Paddy Lands Act in 1956.
He added that a government under SLFP, nationalized the import and distribution of the trade in petroleum products while complete independence was restored from British rule in 1972.
He added that the government under the same party brought about genuine freedom by eradicating the most ruthless terrorist organization in 2009.
President Rajapaksa also said that the SLFP has taught many lessons to the world by practice. He said one is that terrorism could be defeated and another is the middle path in politics.
He added that under the Mahinda Chintanaya vision we could remain undisturbed during the global economic recess.
The President also said that although the SLFP is the party of the ordinary people, it is not confined to the village, to a race, a religion or creed but common to all.
He said the SLFP as a party has to play a pivotal role to create the attitude among the communities that there is no differences such as minority or majority, Sinhala, Tamil, Muslim, Malay etc but there's only one nation. He added that SLFP has to work equally in South, North, East and West to achieve this end.
He added that though the SLFP has come a long way during this 60 long years, the SLFP has to foresee for another 60 years to serve this country.
The President also said that the SLFP can learn many lessons from its own history. He added whenever the SLFP united with the progressive groups and parties, the SLFP was successful while bringing victory to the other parties joining it. "Whenever the SLFP and those parties parted the SLFP lost along with the departed groups". He also stated that the SLFP is an open party. "Anybody can emigrate and anybody can immigrate. But those who leave the party lost while those who joined won." Sri Lanka Freedom Party General Secretary Minister Maithripala Sirisena also spoke.
Courtesy: Daily News
Latest Headlines in Sri Lanka