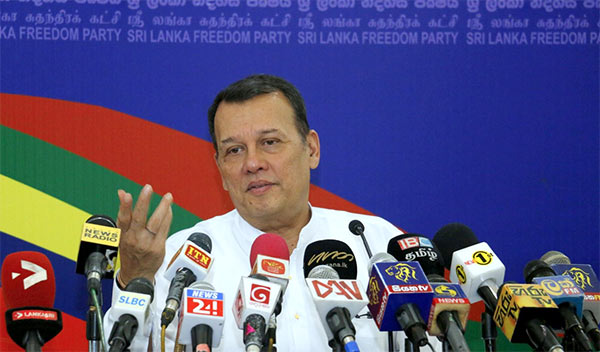 Ports and Shipping Minister and SLFP spokesman Mahinda Samarasinghe yesterday alleged a deliberate attempt by a member or some members of the Cabinet to cause unprecedented rift between President Maithripala Sirisena and India.
Samarasinghe said there was absolutely no basis for reports which quoted unidentified sources as having said that President Sirisena had accused the Research and Analysis Wing (RAW) of planning to assassinate him.
Samarasinghe said there was a determined bid to undermine Indo-Lanka relations and sabotage personal friendship between President Sirisena and Indian leader Modi.
The issue came up at weekly SLFP briefing at party office on T. B. Jayah Mawatha yesterday morning.
Samarasinghe stressed the pivotal importance of identifying those involved in the highly dangerous project as soon as possible. Acknowledging that there hadn't been a similar treacherous initiative since the change of government in January 2015, Samarasinghe stressed the responsibility on the part of the National Unity Government to defeat the sinister moves.
Minister Samarasinghe reiterated that Sri Lanka should conduct a no holds barred inquiry. The SLFPer said so when The Island sought his views as to the responsibility on the part of India to identify those Indians involved in the project meant to sabotage Indo-Lanka relations. Samarasinghe said that Sri Lanka should take the lead in the investigation
Samarasinghe said that as soon they realised the fresh destabilization plot, President Sirisena, acted swiftly and decisively by meeting Indian High Commissioner in Colombo Taranjit Singh Sandhu on Wednesday and then calling Indian Premier Modi to reiterate Sri Lanka's continued confidence in India.
Samarasinghe underscored Sri Lanka's responsibility to inquire into alleged involvement of cabinet ministers in the plot when The Island urged the SLFP spokesman not to ignore the circumstances under which the media reported alleged RAW plot to assassinate President Sirisena. The Island pointed out that Deputy Inspector General (DIG) of Police Nalaka Silva, formerly in charge of the Terrorist Investigation Division (TID) had been interdicted and an Indian national staying here without a valid visa remanded under the Prevention of Terrorism Act (PTA) over their alleged involvement in a conspiracy to assassinate President Sirisena and wartime Defence Secretary Gotabhaya Rajapaksa.
Responding to another query, Samarasinghe ruled out any connection between allegations as regards RAW assassination bid created by some members of the Cabinet and President Sirisena ruling out handing over of East Terminal development of the Colombo harbour to India.
Samarasinghe denied media reports as regards Premier Wickremesinghe submitting a cabinet memorandum on East Terminal development. The media pressed Samarasinghe over the possibility of the UNP hitting back at President Sirisena following his refusal to give East Terminal to India as proposed by the PM. Samarasinghe displayed what he called the Cabinet memorandum submitted by him in his capacity as the Ports and Shipping Minister seeking approval for the Sri Lanka Ports Authority (SLPA) to develop the East Terminal.
Samarasinghe alleged that a section of the media at the behest of some unidentified UNPer had propagated the lie that India and Sri Lanka (current dispensation) had finalised a MoU on the East Terminal Development. No mention had been made to East Terminal in the MoU signed by Minister Malik Samarawickrema on behalf of Sri Lanka and President Sirisena had repeatedly declared his intention to keep East Terminal under Sri Lanka control.
Responding to media queries, Samarasinghe said that previous plans to operate East Terminal through public-private partnership had been scrapped and the government was now going ahead with moves to invest SLPA funds in the East Terminal.
"Of course India, if it wants to, can develop a new terminal. There'll be a substantial investment in case New Delhi accepted Sri Lanka's proposal," he said.
(Source: The Island – By Shamindra Ferdinando)