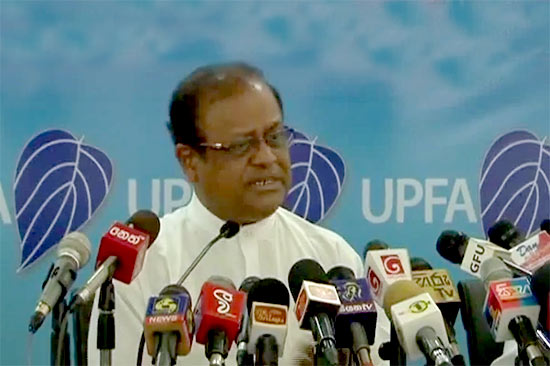 The SLFP yesterday said that it would take a legal action against the gazette notification which had set up the Police Financial Crimes Investigation Division (FCID) as it was instructed by a Ministerial Sub Committee (MSC) headed by Prime Minister on its final decisions against persons summoned before it.
Addressing a media conference at the SLFP headquarters, UPFA General Secretary and SLFP National Organiser Susil Premajayantha said  that they were not against setting up of such a division. But, politicians must not be allowed to manipulate it, he said, noting that there five clauses in the gazette notification. The entire gazette was politicised due to the final one.
President Maithripala Sirisena had also been informed of the impending legal action against it, Premajayantha said. "We have not yet decided in which court to file the action, but we will go ahead with it," he said.
Commenting on the arrest of former Minister of Co-operatives and Internal Trade Johnston Fernando over alleged misappropriation of Sathosa funds during the presidential campaign, Premajayantha said that present Finance Minister Ravi Karunanayake had closed down Sathosa within three months due to mismanagement as the Trade Minister during 2002-2004 UNF government. There was also a serious case pending against Karunanayake, but no action had been taken against him.
Premajayantha said that not only Minister Fernando but also several other former ministers were being harassed by UNP-led government on false charges in view of the next general election.
Matara District MP Mahinda Yapa Abeywardena and Colombo District MP Thilanga Sumathipala also attended the media briefing.
(The Island)