TN MPs want India to reclaim Katchatheevu
Posted by Editor on May 7, 2015 - 8:34 am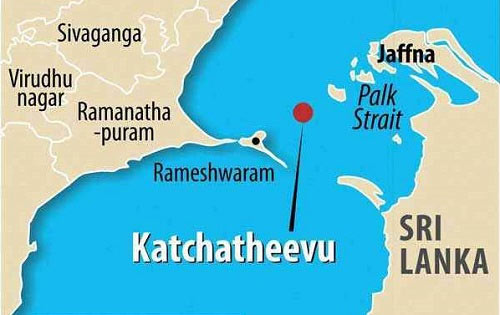 Indian Rajya Sabha members from the AIADMK, DMK and the CPI want the Centre to renegotiate with the government of Sri Lanka to reclaim the island of Katchatheevu.
Buoyed by the passage of the Constitution Amendment Bill to ratify the land border agreement with Bangladesh, these MPs said the government must reconsider the exchange of Katchatheevu as it was not done through a constitutional amendment and has not served India's interest.
A. Navaneethakrishnan of the AIADMK said the "ceding" of Katchatheevu to Sri Lanka without any constitutional amendment has adversely affected the livelihood of fishermen of Tamil Nadu.
"The ceding of Katchatheevu is in total violation of the views given by the Supreme Court in a Presidential reference in the Berubari case," he said, adding that a case has been filed in the Supreme Court by AIADMK chief Jayalalithaa.
In 2011, the government of Tamil Nadu impleaded itself as a party in this case since it is the custodian of all land records. This case is still pending in the Supreme Court.
"The ceding of Katchatheevu is illegal and unconstitutional… I urge the Centre to rescind the 1974 agreement with Sri Lanka ceding Katchatheevu," Mr. Navaneethakrishnan said.
CPI's D. Raja also raised the issue and said there has to be consensus on issues of foreign policy and the view of the State was not taken into consideration during the agreement on Katchatheevu. "There are already problems at the borders with Pakistan and China…the Southern border will always be tense," he said, urging the government to take up the issue with the Sri Lankan government.
DMK's Tiruchi Siva said the government should settle the Katchatheevu issue like it did the dispute with Bangladesh. He said there were no records to prove that the island was with Sri Lanka.
Union Minister of External Affairs Sushma Swaraj said the issue is sub judice and she cannot comment on it, the Hindu reports.
Latest Headlines in Sri Lanka