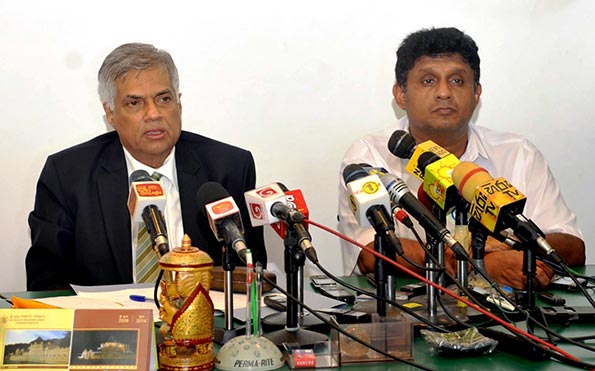 Having briefed a parliamentary group chaired by Premier Ranil Wickremesinghe as regards the SLFP's constitutional proposals on Thursday afternoon in Parliament, the SLFP discussed the same with President Maithripala Sirisena later in the day.
President Maithripala Sirisena chaired the Central Committee meeting of the SLFP at the party headquarters.
Well informed sources said that the SLFP had stressed that the repealing of executive presidential powers should coincide with far reaching electoral reforms whereas the government insisted that doing away with dictatorial powers should receive priority during the 100-day project.
The government and the SLFP hadn't been able to reach agreement on proposals, sources said. The SLFP had also called for what one senior member described as strong provision to prevent elected members from switching their allegiance.
Opposition Leader Nimal Siripala de Silva MP, Prof. G. L. Peiris MP and John Seneviratne MP were among SLFP representatives at Thursday's meeting with the government.
The SLFP insisted that the incumbent President retain certain powers  pertaining to Provincial Councils, land alienation etc.  It was proposed to do away with the presidential power to dissolve Parliament and several other changes such as repealing the power to pardon convicts.
The government asserted that it wouldn't have any option but to dissolve Parliament immediately in case the SLFP declined to go along with the 100-day project.
SLFP sources said that some of those who had campaigned for the ouster of the then President were now backing the SLFP's stand that repealing of executive powers and electoral reforms should take place simultaneously. They asserted that it would be better to extend the 100-day project to ensure that the government and the Opposition achieved desired constitutional objectives.
Sources said there had been consensus among the SLFP CC members that they should stick to their proposals regardless of the UNP's threat to dissolve Parliament.
Asked whether there could be further amendments to SLFP proposals, sources said that CC members had been given a week to make suggestions.
The CC decided to reorganise the party network and prepare for forthcoming May Day.
Sources said that proposed national government comprising members of all political parties seemed unrealistic at the moment.
(The Island)