Sri Lanka's new leaders demand speedier police action
Posted by Editor on February 27, 2015 - 7:15 am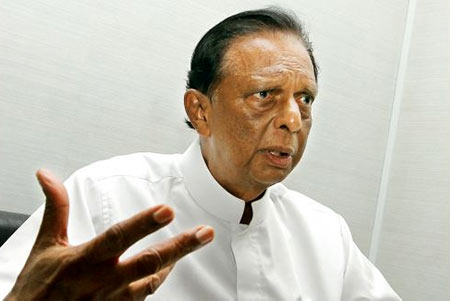 Sri Lanka's new government on Thursday slammed the police for dragging their feet over high-profile cases including the murders of journalists and corruption under the previous regime.
Law and Order Minister John Amaratunga demanded concrete action on high-profile cases as he publicly rebuked the head of the police force for failing to investigate the 2009 killing of prominent anti-establishment editor Lasantha Wickrematunga, among others.
Amaratunga said his government came to power at January elections pledging action against criminals and corrupt individuals under former president Mahinda Rajapakse, but police have failed to show results.
"You say you are investigating, but where are the results? The entire country is getting impatient," the minister told police chief N. K. Illangakoon at a news conference in the capital.
"I want you to list the high profile cases in the past five to six years and I want you to tell me in 10 days what action you have taken. I hope at least seven to eight suspects will be arrested by then."
Amaratunga also opened a new police unit to investigate financial crime, including money laundering and alleged graft under the Rajapakse regime.
Illangakoon said the police had suffered "administrative difficulties," but that he had made changes and was hopeful investigations would speed up.
He said the Wickrematunga assassination case was now being investigated by the Criminal Investigations Department and he was optimistic about a breakthrough.
The case was reopened last month after former cabinet minister Mervyn Silva publicly accused the deposed president's brother Gotabhaya Rajapakse of ordering the assassination of Wickrematunga, the chief editor of the Sunday Leader, in January 2009.
Rajapakse, then secretary to the ministry of defence, has denied involvement, but rights groups say there is strong evidence the military played a role.
At a separate press briefing, government spokesman Rajitha Senaratne said unnamed senior officers loyal to the former regime were trying to sabotage ongoing investigations.
"We will give them another two weeks to show results or I will disclose the names of officers who are sabotaging the investigations," Senaratne told reporters.
The new government of President Maithripala Sirisena took power last month on a pledge to look into allegations of corruption under former strongman Rajapakse.
Rajapakse was the minister of finance, highways and ports, while all his immediate family members also held powerful positions in the administration.
(AFP)
Latest Headlines in Sri Lanka