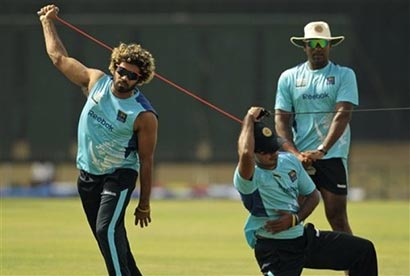 Sri Lanka pacer Lasith Malinga feels that his side will have a distinct advantage over other countries during next month's Twenty20 World Cup as most of the island nation's players have prepared well by competing in the Sri Lanka Premier League.
"SLPL is a good preparation for the Twenty20 World Cup.
"All the Sri Lankan players know the conditions very well and we have a chance to win the Twenty20 World Cup," Malinga, who captained Ruhuna Royals in the SLPL, told reporters after his side's match against Wayamba United.
"It is advantage for us and we are ready for the Twenty20 World Cup," he added.
Ruhuna crashed out of the SLPL after losing to table toppers Wayamba by 12 runs and Malinga said that his players were their best as many youngsters have are not used to such T20 leagues.
"It's the first year of SLPL and the local players are yet to adjust to T20 leagues. They don't know how to play T20 cricket. They will learn and get better in future. It's a good thing for Sri Lanka," he said.
Malinga was not satisfied with his own performance in the SLPL but said that he hoped to do well in the Twenty20 World Cup.
"Definitely, my performance was not up to the mark. But I am hoping that I will do well in the Twenty20 World Cup," said Malinga who took seven wickets from six matches.
Malinga's side lost four matches out of the six in the league phase of SLPL to end the tournament at fifth spot.
PTI