SLSFTA and Mattala-India Agreement Govt will go ahead – Eran
Posted by Editor on July 20, 2018 - 10:10 am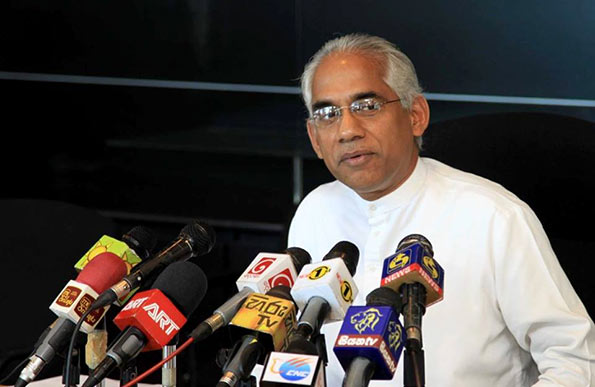 The Government will go ahead with the Free Trade Agreement (FTA) with Singapore as it will enhance the Sri Lankan economy and the Agreement over Mattala Airport will be signed, within this year, with the Indian Government, to reduce the economic damage resulting from the continued maintenance of the Airport, State Minister of Finance, Eran Wickremaratne said.
Speaking at a Media briefing held at the UNP headquarters, Sirikotha, yesterday (19) the Minister said that the country would not be able to move forward and enhance the people`s living conditions without reaching foreign markets through Free Trade Agreements.
"Sri Lanka is a small country. We have only a small market. We can`t develop our economy without reaching foreign markets. After Independence, we have failed to implement a plan to improve trade, so, economically, we are not in a satisfactory situation as of now," he further said.
He pointed out that allegations regarding the FTA with Singapore were baseless.
"Some say that Sri Lanka will become the dumping ground for Singapore.
They forget the fact that we have already passed Anti-Dumping Laws during this Government's tenure.
Some say foreign professionals and employees will come to the country in large numbers, this will not happen.
But, people of our country could use high quality technical equipment at low prices, while our exports will also be increased," he also said. The Minister added that the Agreement to lease 70 per cent of the ownership of Mattala Airport to India for 40 years would be signed this year.
"The income of the Mattala international Airport is only around Rs 6.5 million per month. But, we have an expense of Rs 290 million for its maintenance. It is a crime. Even to establish this, the past Government took loans in the millions of US dollars. We have to pay those debts from taxes obtained from innocent people."
He noted, the Mattala Agreement would be a win-win compromise.
"Until the Airport starts to earn profits, India will tolerate 70 per cent of the loss. If it starts to earn a profit they will also take 70 per cent of the profit. However, the reality is that it is really difficult to make it profitable now. Even FlyDubai, the only Airline which used it, stopped their missions due to birds crashing into the planes. However, we believe that India will make it a profit-making venture."
(Source: Ceylon Today – By Kalana Krishnatha)
Latest Headlines in Sri Lanka