Sobhitha thera tells CJ to quit
Posted by Editor on January 28, 2015 - 8:23 am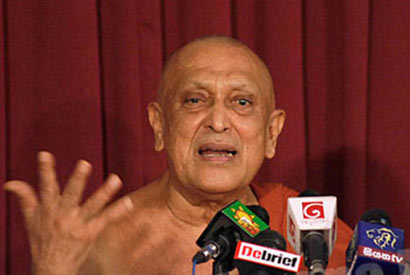 The National Movement for Social Justice (NMSJ) yesterday requested Chief Justice (CJ) Mohan Peiris to step down from his post with dignity.
Head of the NMSJ, Ven. Maduluwawe Sobhitha Thera said as the incumbent CJ was a political appointee and several allegations had been levelled against him, it was his duty and his responsibility to the nation to step down gracefully. The 43rd CJ, Shirani Bandaranaike was taken out, unfairly.
Sobhitha Thera said the current CJ has also been implicated in the attempted coup by former President Mahinda Rajapaksa on the night the election results were announced.
Prime Minister, Ranil Wickremesinghe had seen the CJ at Temple Trees on the night of the election. "With so many allegations against him it is only right that he steps down."
The Thera said the impeachment process of 43rd Chief Justice Shirani Bandaranaike was carried out in a disgraceful manner intended to embarrass her and that CJ Mohan Peiris' unwillingness to step down called for his removal.
(Ceylon Today)
Latest Headlines in Sri Lanka