'Solution must come from within Sri Lanka'
Posted by Editor on August 26, 2014 - 11:32 am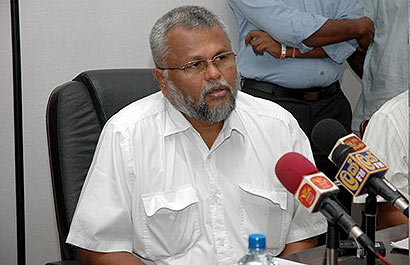 While Prime Minister Narendra Modi's emphasis on devolution of political rights to Tamils is welcome, a solution has to come ultimately from within Sri Lanka, Tamil politician and Cabinet Minister Douglas Devananda said here on Monday.
He was referring to Mr. Modi's statement at a recent meeting with Tamil National Alliance (TNA) leaders in New Delhi that India would continue to engage with Sri Lanka for full implementation of the 13th Amendment.Following the meeting, Mr. Devananda, whose Eelam People's Democratic Party is aligned with the ruling coalition that President Mahinda Rajapaksa leads, wrote to Mr. Modi, thanking him for his emphasis on the 13th Amendment. On the sidelines of a press conference here, Mr. Devananda, Minister of Traditional Industries and Small Enterprise Development, said, "They [the TNA] could go to India or America, but they will get a solution only if they participate in the Parliamentary Select Committee talks here."
The TNA has boycotted the committee, citing its composition — all the members are from constituents of the ruling United People's Freedom Alliance — and demanded the terms of reference for the talks in advance.
Observing that the TNA was unreasonable in its demands, Mr. Devananda said: "The Northern Provincial Council is a great opportunity. But they have done nothing for the people in the past year since they assumed charge. They are just not interested in governance."
On the Sri Lankan government's reluctance to devolve police powers, Mr. Devananda said: "They will give police powers only when there is mutual trust … if I were Chief Minister they (the government) would have devolved it."
Mr. Rajapaksa, at a recent press conference with foreign media, however, categorically said his government would not part with police powers. The Sri Lankan government and its defence establishment have maintained that there were threats of a possible resurgence of the rebel Tigers, who were defeated by the Sri Lankan Army in May 2009. However, Mr. Devananda dismissed it, saying: "That is certainly not a possibility in the near future ."
(The Hindu)
Latest Headlines in Sri Lanka