Special program to broaden the opportunities for innovations – President
Posted by Editor on February 6, 2016 - 7:20 am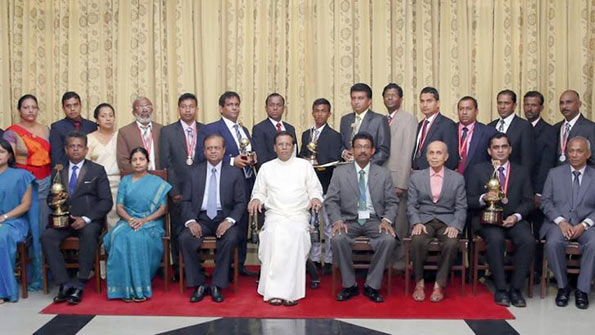 President Maithripala Sirisena says he would implement a special program to broaden the opportunities in the market for the innovations by strengthening of the innovators.
He was speaking at the ceremony to present Presidential Awards for Innovations – 2016, held yesterday (Feb. 05) at the Presidential Secretariat.
The President, stating that there is an issue about whether the opportunities have been created in the market for innovations brought about by the awardees, said the government will act according to its policy to encourage these projects.
He said a program will be initiated to provide loan facilities to them through state banks. He directed the Minister to present a cabinet paper to declare a day of innovators to make public awareness about the importance of the field of innovation.
President Sirisena pointed out the importance of giving prime consideration to the quality, standard and the attraction of the innovations.
"To go forward as a country and a nation, we should give higher priority to our products", the President said. "We should end the era when our products were repressed while embracing most things brought about by the influence of the foreign countries which are not suitable for us", he added.
The Awards Ceremony organized by the Sri Lanka Inventors Commission in collaboration with the Ministry of Research and Technology to encourage local inventors. At this event the President presented awards for the best inventions in 2013 and 2014 under different categories.
Mr. A.P.S Lakshman Wijesinghe won the Presidential award for the best inventor of the year 2013 by the President for his invention of coir fibre processing machine.
Mr.Nilan Chathuranga Lokuhettige won the Presidential award for the best inventor of the year 2014 for his creation of the artificial limb.
The President also launched the new website of the Sri Lanka Inventors Commission.
Minister of Technology and Research Susil Premajayantha, Secretary to the Ministry of Technology and Research, R Wijayalechchumi, Commissioner of Sri Lankan Inventors Commission, Dr. Mahesh Edirisinghe, the Director, Dinesh Sathrukalsinghe, Professor Carlo Fonseka and others participated in this event.
(President's Media)
Latest Headlines in Sri Lanka