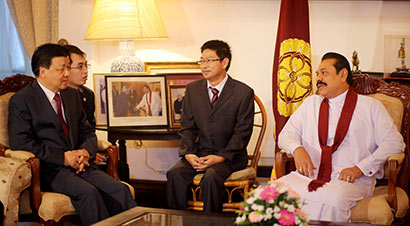 Political Bureau Member of the Standing Committee of the Communist Party of China (CPC) Mr. Liu Yunshan called on President Mahinda Rajapaksa at the President's House this morning (10th) where the two countries reaffirmed their commitment to the strategic cooperation that was agreed upon during President Rajapaksa's state visit to China earlier this year.
President Rajapaksa, while thanking China for its long-term support to Sri Lanka, said the two countries should act quickly to implement the agreements that were agreed upon during his visit to China in May 2013. During that visit, President Rajapaksa held bilateral discussions China's Prime Minister Li Keqiang during which the Prime Minister said, "The long-standing friendship between the two countries has now reached the level of strategic cooperation."
Mr. Liu informed President Rajapaksa that the purpose of his first visit to Sri Lanka is to implement the agreements, thereby expanding cooperation between the two countries. He said the Government of China is "always grateful to the Government of Sri Lanka for the support."
"I can feel the profound friendship the Sri Lankan people have towards Chinese people," Mr. Liu observed.
Mr. Liu said that the signing of a free trade agreement will bring economic cooperation between the two countries to a higher level and that the economic development is presenting very good momentum for cooperation in other sectors such as culture, science and technology.
Conveying the greetings of Chinese President Xi Jinping, Mr. Liu expressed the Chinese government's appreciation for President Rajapaksa's attendance at the 2013 International Conference of Asian Political Parties (ICAPP) Special Conference that took place in Shaanxi Province in May. Noting that inter-party relations are an important part of inter-state relations, Mr. Liu said the CPC places importance in its relations with Sri Lanka.
A high-level delegation accompanied Mr. Liu, including several vice ministers of the CPC Central Committee and China's Ambassador in Sri Lanka Mr. Wu Jianghao.
Minister of Mass Media and Information Dr. Keheliya Rambukwella, Minister of Irrigation and Water Resources Management Mr. Nimal Siripala de Silva, Minister of Investment Promotion Mr. Lakshman Yapa Abeywardena, Deputy Minister of the Ministry of External Affairs Mr. Neomal Perera, Monitoring MP of the Ministry of Mass Media and Information Mr. A.H.M. Azwer, Secretary to the Ministry of External Affairs Mr. Karunatilaka Amunugama and Sri Lanka's Ambassador to China Mr. Ranjith Uyangoda were also present.
(Courtesy: President Media)