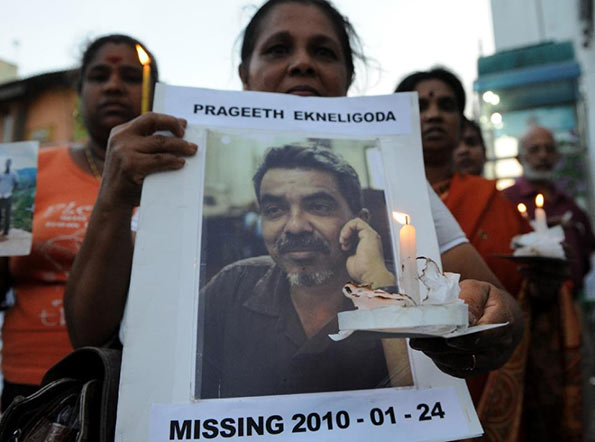 Sri Lanka's police Monday arrested four army personnel, including two senior officers, in connection with the disappearance of a dissident cartoonist that triggered international condemnation of the island's rights record.
Two lieutenant colonels, a sergeant and a corporal were arrested following the testimony given by three other suspects already in custody over the abduction of Prageeth Eknaligoda in 2010, police spokesman Ruwan Gunasekera said.
"The four men were questioned today and arrested by the Criminal Investigations Department," Gunasekera said in a statement.
Eknaligoda, who contributed to the pro-opposition Lankaenews.com website, did not return home after work in January 2010, two days before the island's presidential election which was won by Mahinda Rajapakse.
The cartoonist was never seen again and his case was raised at the UN Human Rights Council in Geneva as well as several other fora where former strongman Rajapakse's rights record was severely criticised.
Leaked police investigation reports have suggested that Eknaligoda was killed after he was questioned by army personnel about a book he was writing on the Rajapakse family whose members have been accused of bribery, corruption and even murder.
Rajapakse and several members of his family are under investigation for large scale financial fraud. They have denied the accusations and accused the new government of a political vendetta.
Rajapakse's administration came under attack over a spate of killings and physical violence against independent journalists during a decade in power that came to an end in January.
Anti-establishment editor Lasantha Wickrematunga was gunned down by gunmen as he drove to work near Colombo in January 2009.
Some 17 journalists and media employees were killed in Sri Lanka during Rajapakse's regime, which also blocked pro-opposition websites.
(AFP)