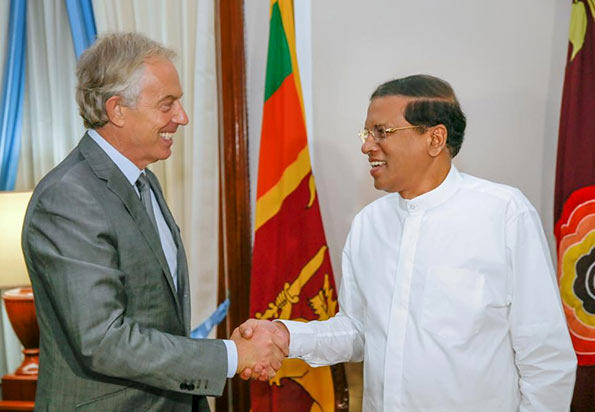 Former British Prime Minister Tony Blair has assured to appear on behalf of Sri Lanka in eliminating misconceptions in the world. He gave this assurance during a meeting with President Maithripala Sirisena.
Former British Prime Minister Tony Blair who is on a private visit to Sri Lanka met President Maithripala Sirisena at the President's Office. He appreciated the initiative taken by the President for the conduct of the Parliamentary elections in a free and peaceful environment.
Tony Blair lauded the programme mooted by President Maithripala Sirisena to build democracy and reconciliation within the country giving a proper leadership.
The Former British Prime Minister elaborated on the possibility for Sri Lanka to work within the international programmes of the Tony Blair Foundation. He emphasized to the President that every support would be extended to Sri Lanka for the growth of the island's tourism industry.
(Government News Portal)