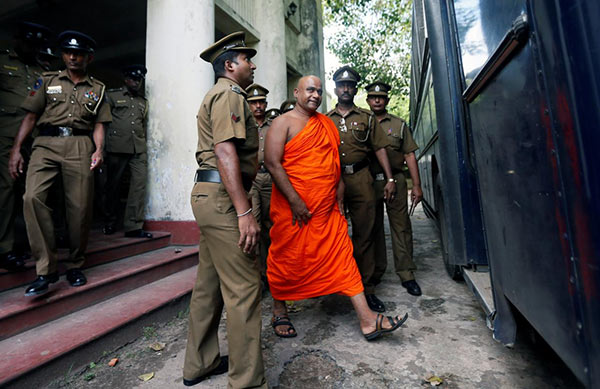 A Sri Lankan court remanded a Buddhist monk in custody on Monday after charging him with leading hardline nationalists in a protest against 31 Rohingya Muslim asylum seekers last week, forcing the refugees to flee a U.N. safe house, police said.
The police have so far remanded seven people on several charges including creating communal disharmony, attacking police and damaging property, police spokesman Ruwan Gunasekara told Reuters.
The monk, Akmeemana Dayarathana, and colleagues are accused of storming into the safe house chanting "Rohingyas are terrorists".
President Maithripala Sirisena's government condemned the attack on the refugees as "shameful" and urged police to hunt down those responsible.
The refugees, who were arrested in April along with two suspected Indian traffickers in a boat in Sri Lankan seas, were taken into protective custody and then to a detention center outside Colombo following the protest on Tuesday.
Tension between Myanmar's majority Buddhists and the Rohingya, most of whom are denied citizenship, has exploded several times over the past few years as old enmities, and Buddhist nationalism, surfaced with the end of decades of harsh military rule.
There has been an exodus of Rohingya from Myanmar's Rakhine state since Aug. 25, when attacks by Rohingya militants triggered a military crackdown that the United Nations has branded "ethnic cleansing".
(Reuters)