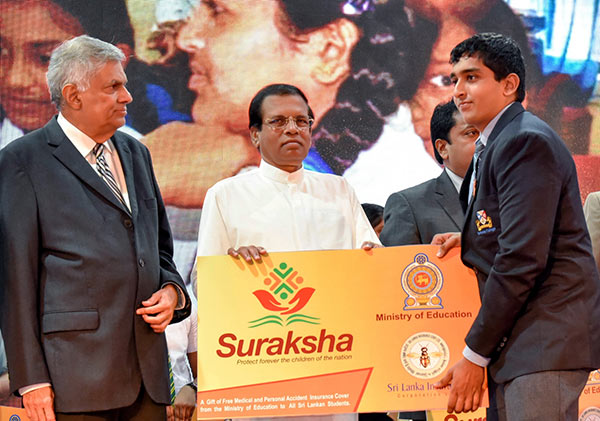 Suraksha, the launch of the health insurance scheme for students was seen as a historic occasion by President Maithripala Sirisena yesterday, as he hoped that it would help the 4.5 million school going children in the country.
"This programme is not only limited to schoolchildren but it also covers Pirivena students and students engaged in other religious institutes," the President said at the launch of the Suraksha scheme at Temple Trees.
Successive governments, President Sirisena said have made it their policy to strengthen free education, to provide all facilities to students and schools in the hope that they contribute to the creation of an educated future. "Education is a long term investment and it has no limits," said President Sirisena.
The President in jest also quipped that the insurance scheme was no license for children to hurt themselves.
"Our expectation is to save you from accidents, to have you healthy and make secure our roads, schools, school grounds, and homes", said the President.
As the world celebrated World Children's Day on Sunday (1), the President explained that such a day existed to bring to notice the responsibilities of governments to pay special attention to children and take action when needed, "We are a government which will adhere to and enforce all international treaties and protocols on children and we will be a government which will go beyond to ensure the welfare of our children", he said.
President Sirisena in conclusion asked all principals and teachers to take initiatives in registering all children into the insurance scheme so that it is implemented appropriately.
(Source: Daily News – By Zahrah Imtiaz)