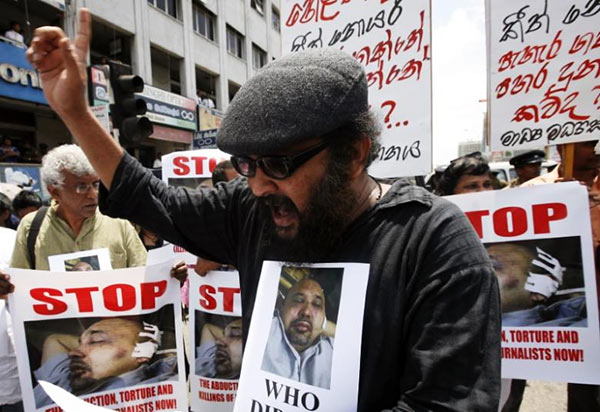 Sri Lankan police arrested an army officer and two soldiers on Saturday over the alleged abduction, assault and illegal detention of a leading journalist in 2008 during the war against separatist rebels, the police said.
The island nation saw abductions and killings of high-profile journalists and rights defenders during the final months of the war that ended with the defeat of Tamil Tiger separatists in May 2009.
The previous government headed by President Mahinda Rajapaksa failed to probe the crimes despite international pressure.
A special police team arrested an army officer and two soldiers over the abduction and illegal detention of journalist Keith Noyahr, police spokesman Priyantha Jayakody said in a statement.
A local court ordered the three held until Feb. 23.
Noyahr was an associate editor of the English language weekly The Nation when he was abducted in May 2008. He was severely beaten before being released, barely able to walk. After the attack, he fled the country with his family fearing for his life.
Rights groups have blamed the Rajapaksa government for several abductions, assaults and killings of high-profile journalists or editors who were critical of his government and the war against the Tamil Tigers.
President Maithripala Sirisena, who unseated Rajapaksa in an upset win in 2015, has promised to probe human rights abuses including war crimes.
However, Sirisena's administration has been sluggish in probing key allegations due to resistance by members of his own party and some government officials.
(Reuters)