Sri Lanka Cabinet approved proposal to decide timeframe to reactivate Light Railway Transit project
Posted by Editor on July 5, 2023 - 2:35 pm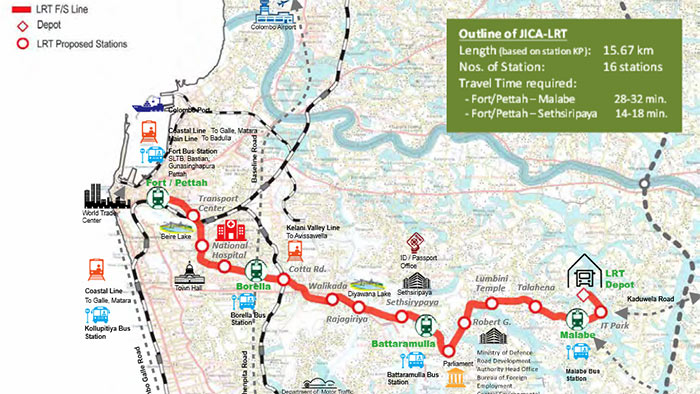 Sri Lanka's Cabinet of Ministers on Tuesday (July 04) approved the proposal to decide on a time frame to enter into an agreement with the Japanese mission in Colombo on reactivating the discussions on the proposed Light Railway Transit (LRT) project.
This proposal was made by Sri Lanka President Ranil Wickremesinghe.
In April 2023,  Sri Lanka's Ministry of Urban Development and Housing said it had called for a report from an expert committee for the re-implementation of the Colombo Light Rail Transit Project that was scrapped by the former President Gotabaya Rajapaksa's administration.
A proposal to re-implement the Colombo Light Rail Transit Project was put forward to the Finance Ministry, and the report has been called for by the National Operation Center.
The Colombo light rail transit (LRT) project is the first of its kind to be developed in Colombo, the capital city of Sri Lanka.
On March 11, 2019, the Government of Japan and Sri Lanka signed the loan agreement and exchanged notes pertaining to the project, which had been designed to construct a 17 km-long elevated rail track including 16 stations to cover important and major intersections from Malabe to Colombo Fort as a solution for the traffic congestion in Colombo city and suburbs.
Under the project, it had been proposed to deploy 25 trains for the service and each unit was supposed to comprise four air-conditioned passenger compartments to accommodate 800 passengers.
Japan had agreed to grant loan assistance of USD 1,800 million for the Light Rail Transit System (LRT) project
When Gotabaya Rajapaksa was elected to power, he ordered the immediate termination of a Japan-funded light rail transit (LRT) project.
A special audit report by the Auditor General of Sri Lanka revealed that this decision alone cost the country Rs. 5.978 Billion.
The project was suspended following a letter issued by the then-Secretary to the President on September 21, 2020, citing that the project was not the appropriate cost-effective transport solution.
The Japan International Cooperation Agency had provided the facility of paying the said loan during a period of 40 years including a grace period of 12 years and the annual interest rate thereon was 0.1 per cent.
A special audit report by the Auditor General of Sri Lanka revealed that the decision to terminate the project without any proper study led to an uneconomic expenditure of Rs. 5.978 Billion that was already spent on the project.
It said that the Government of Sri Lanka had decided to unilaterally terminate the Japanese-funded Light Railway project with no alternative solutions.
Latest Headlines in Sri Lanka