Sri Lanka can tap Chinese and Indian middle classes, says Packer
Posted by Editor on November 14, 2013 - 10:13 am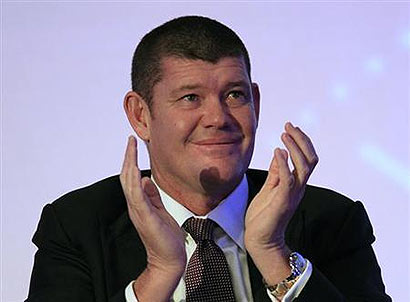 (Reuters) – Sri Lanka could be turned into a preferred destination for wealthy Indian and Chinese tourists, said Australian gambling tycoon James Packer on Wednesday as he promoted his plan to develop a $400 million dollar casino resort in Colombo.
Crown Resorts (CWN.AX) Chairman Packer was speaking at a Commonwealth forum on Wednesday after Sri Lanka's main opposition party this week attacked his Colombo casino plans, saying that he does not hold the proper licence.
Packer, optimistic on Sri Lanka's economic performance after the end of a nearly 30-year war in 2009, believes the island nation could be turned into a leading tourist hotspot for the rising middle classes of India, China and the rest of Asia.
Packer said that Sri Lanka's improved economic prospects since the end of its civil war in 2009 provide an opportunity to develop the country as a base and destination for mass, luxury and business tourism.
Mounting opposition by Buddhist monks and some political parties has already led Sri Lankan government to delay approval for Packer's casino resort, the flagship project in a government plan to draw in Indian and Chinese gamblers.
Packer cited Singapore's example of how a country that delivers luxury hotel resorts with gaming as a component can benefit immensely by attracting a much greater share of Chinese and Asian tourists.
He said that Singapore began "reaping economic and employment benefits beyond anyone's expectations" two years after deciding to build two of the world's largest integrated resorts including casinos.
RIGHT TOURISM MIX
"While the tourism opportunities from China are incredibly large, unless tourism operators and authorities appreciate exactly what the rising Chinese middle class wants, and unless we can cater for their desires, then we have little hope of taking advantage of this opportunity," Packer said.
Sri Lanka is aiming to attract 2.5 million tourists a year by 2016, generating $2.5 billion in annual revenue. Packer said the target is achievable with an increasing middle class population in India and China, but only with "the right tourism infrastructure and attractions".
"Now is the time for Sri Lanka and all countries to understand the tourism opportunity emerging in Asia and to work hard to meet the market with the right tourism offering," he said.
Sri Lanka's Investment Promotion Minister Lakshan Yapa Abeywardhena on Wednesday said the government has not prepared an amended bill for parliament approval of the Crown Resorts project.
The deal has already been delayed once after the government asked Lake Leisure Holdings, the joint venture between Crown and its local partner Rank Entertainment Holdings to change its construction plans.
Packer, one of Australia's richest men, and the Sri Lankan government have been in talks since February over hotel and entertainment investment options as he expands his global gambling business, which includes casinos in Australia, Macau, Britain and the United States. (Reuters)
Latest Headlines in Sri Lanka