Tamil Eelam returns to Tamil Nadu, India
Posted by Editor on November 14, 2013 - 11:16 am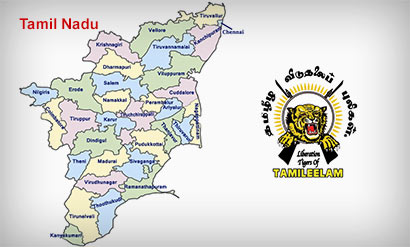 – by Shenali D Waduge –
The charade of setting up Tamil Eelam in Sri Lanka has lasted long enough – 30 years to be precise. Tamil Nadu has been happy to watch from the balcony attempts to set up the foundation for Eelam in Sri Lanka as prescribed by Indian Governments. With the vanquishing of the LTTE that hijacked the Eelam idea thus bringing a lot of hounds to the region the scenario has become complicated. Too many players all out to get their own pound of flesh. Be that as it may, sheer grit and commitment won the day with necessary leadership backing to vanquish the tiger and its ability to strike terror through weapons. Eelam in limbo meant a quick pooling of minds moving on to plan B and that was to take Eelam to where it was originally meant to be, now that 30 years has been sufficient a time to lay the foundations in the original place it was to be enshrined. We begin to understand the calls of the wild from across the Palk Strait and the efforts taking place to plug the North of Sri Lanka into a Greater Eelam as a token of appreciation for all the 30 years of toil having coaxed Sri Lanka's Government into holding elections and placing as Chief Minister one inspite of his education and legal experience is willing to chirp the Eelam song. But alas, India's iron fist has come down hard – India within days have done what Sri Lanka took 30 years to do – the memorial built in honour of Tamil 'martyrs' in Sri Lanka has been demolished within days of inauguration.
Nullifying External Affairs Ministers excuse that the non-attendance of Indian Prime Minister to the CHOGM in Sri Lanka was partly due to Tamil sentiments in Tamil Nadu has been the demolition of the Memorial opened for Prabakaran in Tamil Nadu. Now the demolition of a memorial does not constitute upholding Tamil sentiments, doest it and especially so when it comes within days of Manmohan sending a love letter of excuse to President Rajapakse?
The Mullivaaikal Memorial was opened by P. Nedumaran, the President of the Ulaga Tamizhar Peramaippu (World Tamils Federation) at Vilar, village in Tanjore on 6th November 2013 after permission was granted by a judge of the Madras High Court. Incidentally, quite a number of high profile members had been involved in the setting up of the memorial including M. Natarajan husband of Sasikala, close aid of Chief Minister Jayalalitha. Numerous people from Sri Lanka living in Sri Lanka and overseas had also contributed funds. This directly links them with LTTE initiatives throughout the terror in Sri Lanka.
Worthy of mention too is the recent demolition of Prabakaran's underground bunker in Pudukurippu by Sri Lanka's army and whatever else are reminders of the tiger leader and killer despite some STILL holding him in reverence.
What is also interesting is that unlike Sri Lankan authorities made to shy from taking actions on account of pressures that would come their way through various other means, India not only demolished the memorial wall and park but gave instructions to Tamil Nadu chief minister to arrest 6700 extremist and pro-tiger terrorist elements including Vaiko across 135 places including Chennai, Coimbatore, Tirupur and Madurai who were protesting the total boycott of CHOGM by India in Sri Lanka.
With all these developments Leena Manimekalai, the directress of the controversial 'white van' documentary has accused Tamil Nadu Chief Minister for playing a double game by passing resolutions against Sri Lanka but arresting people and destroying memorials. That is in deed a good question posed to Jayalalith to answer.
Dr. Subramaniam Swamy in a recent discussion raised the question of the logic in why those accused of killing Rajiv Gandhi should escape punishment because it affected the Tamil sentiments. Using the same argument how many of the dead and injured in the IPKF killed by LTTE were from Tamil Nadu? If none of the killed or injured IPKF were Tamils of Tamil Nadu what would Tamil Nadu say of the sentiments of the families of the slain IPKF soldiers demanding justice for the killing of Indian soldiers on duty by the LTTE – the very organization for which the memorial has been inaugurated? Why has it taken India 25 years to lay a memorial that too established by Sri Lanka in Sri Lanka by Sri Lankan soldiers? Why has no such memorial been established in India for these Indian jawans who came on behalf of India to disarm the LTTE as part of the promise given to Sri Lanka – a job they claimed they could do in hours but couldn't or didn't want to or was ordered not to, which eventually led to IPKF being unceremoniously been asked to leave Sri Lanka. If Tamil Nadu are Indians and proud Indians too why do they hesitate to remember the IPKF but raise funds to erect a memorial for Prabakaran the very leader who carried out the killing of Rajiv Gandhi on Tamil Nadu soil? There is something certainly amiss here.
We would like to remind Indian authorities that its intelligence agency that claimed LTTE as their 'boys' taking orders initially from them may perhaps be influenced by western sources resulting in the Indian Government being misled no different to how the Indian military were misled by Indian intelligence on numerous occasions in Sri Lanka when they arrived to disarm the LTTE. Indian Government is well advised to investigate how many of its officials are placing India's integrity and sovereignty above the other interests they are working towards and that probe must start with Tamil Nadu with the open question of whether now that Eelam has returned to India's Tamil Nadu will India simply stop at demolishing memorials or completely take the bull by the horns.
At this stage we cannot but wonder if Prime Ministerial candidate Modi will fall for the tune of Tamil Nadu and the Eelam lobbyists controlling it – we think not, which is why Sri Lanka strongly feels that Narendra Modi is the best thing that could happen to India at least to save it from digging its own grave.
In whatever synonym Eelam is promoted what it cannot hide is the ultimate endeavor to carve out a separate state from its current allegiance – therefore whether it is in Sri Lanka or India that separate state endeavor is the ultimate objective. Sri Lanka has clearly said NO (though there are some politicians happy to help carve out Eelam) but now that the ball is in India and the chicken or rather the tiger has come to roost there, far more serious than not attending CHOGM is India's decision on what it proposes to do with Eelam. That decision, in real terms to safeguard India's sovereignty, India needs to keep all elements linked to Eelam be it in Sri Lanka, India or elsewhere at arms length and some Indian politicians may not like this too much.
Eelam be in Sri Lanka or India is of strategic concern for both nations, the region and China and Russia in particular.
Nevertheless, what is interesting is that Eelam has finally returned to India's Tamil Nadu and Sri Lanka can now watch from the balcony how India handles it.
What needs to be added is that inspite of India's callous attitude and haughty actions upon Sri Lanka with word going around that Sri Lanka's foreign policy is being run by Indian foreign office, our leaders continue to allow India stakes in Sri Lanka and watches India leverage its hold leading to a possible takeover of the country without even a whimper by our leaders except that which comes from the nationalists.
A good example of the servility towards India is in the manner the Government ignored concerns about giving Trincomalee and Sampur and has now plans to give India to handle all communication channels of the Sri Lankan armed forces. If all goes well and cabinet approves this all that our armed forces say and do will be monitored by India. When the Defense Secretary's phone was tapped by the Indian telecommunication company set up in Sri Lanka to run at a loss but to be used strategically, should we be giving all our strategic stakes to India for a song and then turn to the nationalists to save the day after putting the entire country in jeopardy?
These are questions that Sri Lanka's leaders need to ask themselves without being too engrossed in the oomph of CHOGM and the fanfare surrounding it. What the Government should be more concerned about is the next election when a common candidate (despite a dark record) will emerge aligning all opposition/minority parties against the present Government, inside which plenty of snakes prevail ready and bargaining to do a kangaroo.
Latest Headlines in Sri Lanka