Don't prop up LTTE rump GR tells Commonwealth nations
Posted by Editor on November 14, 2013 - 10:07 am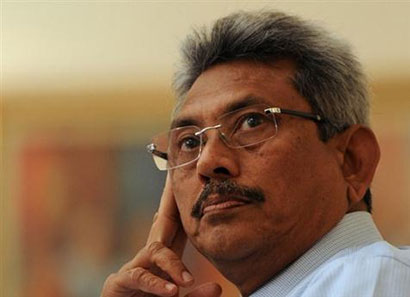 Defence Secretary Gotabhaya Rajapaksa yesterday urged delegations attending the Commonwealth Heads of Government Meeting (CHOGM) not to strengthen the hands of those promoting separatist sentiments.
Defence Secretary Rajapaksa was commenting on Canadian MP Deepak Obhrai laying flowers at Elephant Pass on his way back from Jaffna.
The Defence Secretary said: "The LTTE rump remains active in Canada as well as many other countries in the Commonwealth. As we are fully aware of the circumstances leading to Canada and some other countries downgrading their representation at the CHOGM, Sri Lanka is genuinely concerned about ongoing efforts to sanitize the LTTE rump."
The Canadian envoy could have laid flowers at a place without causing controversy, he said.
The Defence Secretary said that Sri Lanka couldn't  afford to ignore expensive propaganda projects run from various world capitals. Asked whether the government was concerned about other delegates seeking to lay flowers at various cemeteries in the Northern Province, the Defence Secretary said that none of those who had been shedding tears for war victims were bothered as long as they felt the LTTE could overwhelm the military. He pointed out that some governments had been compelled to placate the Eelam lobby for political reasons. "But it would be grossly unfair on their part to engage in propaganda exercises at our expense," he said.
Responding to a query, the Defence Secretary said that the West should be mindful of the death and destruction caused by the LTTE until the army finished it off on the banks of the Nanthikadal lagoon in May 2009. Thousands of lives could have been saved had those concerned about post-war situation here acted swiftly and decisively at least after the assassination of one-time Indian Premier Rajiv Gandhi in 1991, the Defence Secretary said.
(Courtesy: The Island)
Latest Headlines in Sri Lanka