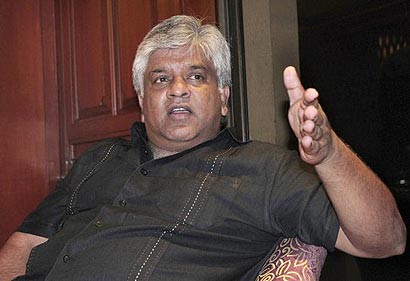 Sri Lanka's Cricket World Cup winning Captain Arjuna Ranatunga says the country has a golden opportunity to win the upcoming world cup, if it select the "right team".
Ranatunga who spearheaded the Sri Lankan Campaign in the 1996 world cup says the local side is the most favourite to win the world cup in 2011.
The lefthander, who was known as "captain cool" during his playing days citing reasons for his predication, noted that Sri Lanka has a good team including a better bowling line up compared to 1996.
He said his only worry is the lack of consistency in the middle order, which Ranatunga said that if ironed out will help Sri Lanka to lift the cup.
The former Lankan skipper also revealed that cricketing greats such as Vivian Richards, Kapil Dev and Imran Khan who has endorsed India to win the world cup has endorsed Sri Lanka's chance as well.
Political interference
Despite the positives Ranatunga was concerned about the possible political interference in selecting the team to the World Cup.
He said "political interference has been happening in the last so many months" and added this has resulted in the Sri Lankan side losing some tournaments.
Ranatunga who is also a DNA Parliamentarian added that "some players have done favours to the politician, so the politicians have to pay back to those players"
He cautioned that "if something goes wrong against Sri Lanka's chances in the World Cup, the political hierarchy should be responsible for it, if they interfere in team selection".
However the former skipper said that the selection committee headed by Aravinda De Silva has the ability to pick the right team, but added that is "only if they were given an independent hand to do the job"
However he stated "We are not fools to think that the world cup selection will not see political interference".
West Indies tour in February
Arjuna Ranatunga said playing 3 one day games just at the doorstep of the world cup is not the suitable thing to do.
He questions "What if a player or two gets injured".
The former Captain also said having a team like West Indies prior to the World Cup is not the best option.
"West Indies is not the best side on paper" added Ranatunga.
Source: News360.lk