Proposed electricity tariff revision: Majority not affected
Posted by Editor on December 15, 2010 - 5:48 am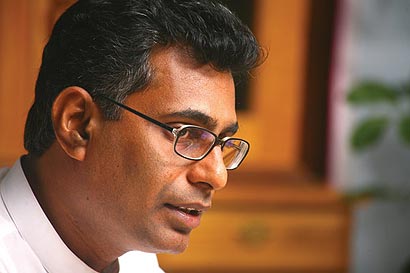 Power and Energy Minister Patali Champika Ranawaka yesterday stated that the bills of 78 percent of the electricity consumers would not be increased by the new proposed electricity tariff as they consume lesser than 90 units monthly. The electricity tariff will be increased for those customers whose monthly consumption is above 90 units.
The Minister revealing that the annual electricity demand in Sri Lanka is 10,000 million KWs, said the hydro electricity could only meet 4,500 million KWs out of it. The rest of the demand is to be generated by thermal power.
He said each customer can be provided with 73 units of hydro electricity monthly and their extra consumption is generated at thermal power plants which is costly. He said the cost of a unit generated at thermal power plants ranges from Rs 12 to Rs 46.
He added that the burden of the excessive consumption of electricity which is generated at very high cost by 22 percent of electricity consumers cannot be put on other consumers. The electricity tariff is introduced in a cost reflective manner.
Minister Ranawaka further stated that the estimated cost of a electricity unit is Rs 17.51 while each is sold at Rs 13.10.
He added that the Ceylon Electricity Board has suffered a loss of Rs 115 billion.
The loss is settled by the treasury and certain banks in turn transferring the burden on the public either they consume electricity or not.
Answering a question raised by a journalist, he said the increase may be eight percent for some consumers and more or less according to their consumption. He added that an increase of Rs 15 billion is expected after the revival of the electricity bills.
Minister further said that the electricity bills of the religious places, public institutions and schools will be reduced by 25 percent by next year.
Minister further stated that after June the difficulties would be relieved and again the electricity bills will be revived.
Minister Ranawaka yesterday requested the public to make their representations before the Public Utilities Commission of Sri Lanka in support of formulating new electricity tariff which is to be introduced in January.
Stating that for the first time in history, the public can make their views in reviving the electricity tariff at a press conference held at Power and Energy Ministry Auditorium, the Minister stated that the Commission will operate at the Foundation Institute. He added the public could make their complains or criticisms in person or by letters.
Power and Energy Ministry Secretary MMC Ferdinando also addressed the media. Consultant to the Minister Ashoka Jayawardena and additional Secretary T M Herath also participated at the occasion.
Courtesy: Daily News
Latest Headlines in Sri Lanka