Sri Lanka capable of resolving own issues – Foreign Minister of China
Posted by Editor on May 26, 2011 - 9:20 am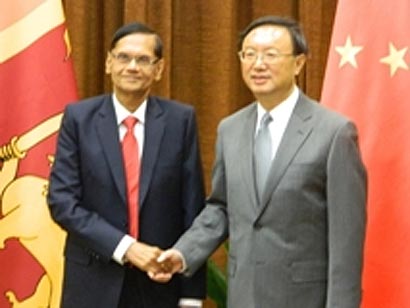 The Foreign Minister of China Yang Jiechi receiving Sri Lanka's External Affairs Minister Professor G.L.Peiris on Tuesday at the Foreign Ministy in Beijing, said that China has total confidence in the capability of the government and people of Sri Lanka to resolve their own issues. He also said that China will stand by Sri Lanka in achieving the tasks of reconciliation and reconstruction.
The Foreign Minister of China expressed his government's appreciation of the accomplishments of the Government of Sri Lanka under the leadership of President Mahinda Rajapaksa, in eradicating terrorism in Sri Lanka and for the on going rapid development process.
Sri Lanka's position on issues connected with the Darusman Report, work of the Lessons Learnt and Reconciliation Commission and initiatives of the Inter-Advisory Committee appointed by the Government of Sri Lanka was explained in detail by Prof. Peiris at these discussions.
The two Ministers also discussed economic development of Sri Lanka while noting the Hambantota Port Development Project, the Mattala Airport, the Puttalam Coal Power Plant Project and the Colombo-Katunayake Expressway which have already commenced with the generous contribution of China.  Proposed arrangements for Hambantota Harbour Phase II and Matara-Kataragama New Railroad Extension too were discussed.
It was also noted that China had granted accredited destination status to Sri Lanka facilitating arrival of more Chinese tourists to Sri Lanka.
Minister Peiris had informed the Foreign Minister of China that the National Performing Arts Theatre, built by China will be accepted by  President Mahinda Rajapaks on behalf of the Sri Lankan Government, at a formal ceremony shortly.
Source: Government News Portal
Latest Headlines in Sri Lanka