Sri Lanka detains soldiers in case of missing cartoonist
Posted by Editor on October 24, 2015 - 9:18 am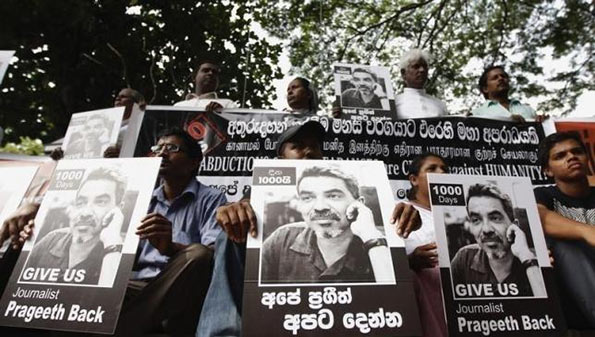 Sri Lankan police have detained 11 people, most of them soldiers or former soldiers, in a widening probe into the disappearance of a cartoonist that has become a test case of the new government's resolve to address human rights abuses.
Prageeth Eknaligoda, a fierce critic of former president Mahinda Rajapakse, went missing near Colombo more than five years ago, triggering allegations from his wife and rights activists that he had been abducted by government agents.
At the time of his disappearance in January 2010, Eknaligoda was working on a story on the alleged use of cluster bombs by Sri Lanka's military in the final months of the war against the Liberation Tigers of Tamil Eelam, his colleagues said.
The military has denied any such use.
New President Maithripala Sirisena has vowed to prosecute members of the previous administration for abuse of power and the first arrests in the high-profile case were made in August, a police official said.
Army spokesman Jayanath Jayaweera said four of the detained men were serving soldiers while the rest were ex-soldiers and informers employed by the military.
"It has been disclosed during the investigations these 11 people had taken Prageeth to a camp. Last week they were taken to this camp and questioned," police spokesman Ruwan Gunasekera said.
Sri Lanka is under the global spotlight after a United Nations probe found that both the Sri Lankan government and Tamil Tiger separatists committed war crimes including mass killings of civilians in the 26-year-long war that ended in 2009.
Eknaligoda's case could set a precedent for prosecution of war crimes, especially against serving members who have been beyond the reach of the law for their role in the conflict, activists say.
A spokesman for the military said it was fully cooperating with the police investigation. The military had withdrawn all privileges of the detained men, spokesman Jayaweera said, pending the investigation.
(Reuters)
Latest Headlines in Sri Lanka