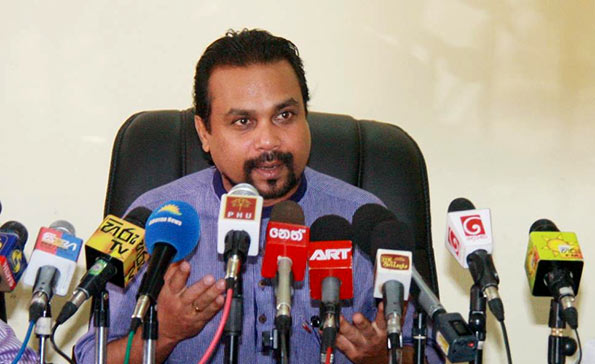 MP Wimal Weerawansa has been arrested and will be produced before the Negombo Magistrate Court after a statement is recorded, Police Spokesman told media.
Earlier today UPFA MP Wimal Weerawansa was stopped by CID officers at the Bandaranaike International Airport (BIA) in Katunayake for questioning over an issue with his passport.
The former Minister said that he was preparing to travel to Europe this morning for a series of lectures, following an invitation from Sri Lankan expatriates in Dubai and Italy, when he was stopped by the CID officers.
Weerawansa said that upon arriving at the airport he realized that the passport in his possession was one that he had lost and later found after obtaining a new passport.
The MP said that he was asked by airport authorities to return with the new passport which had the correct visa stamp.
Weerawansa said that when he returned to the airport with his new passport at around 8.30am today, several CID officers proceeded to question him.
He accused the officers of attempting to prevent his foreign tour.
However, airport sources say that using an expired passport to fly abroad is a crime and that an inquiry will be carried out to determine whether the MP had committed a mistake.
(Source: Ada Derana)